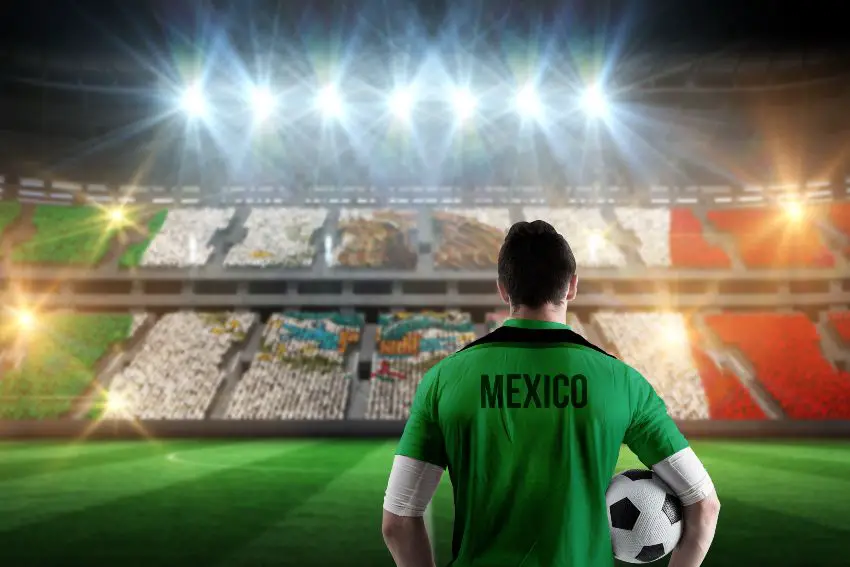 Mexico is known for its tremendous passion for soccer! This appears clearly in their solid Mexican league, their successful soccer national team and their awesome passionate supporters …
… The sport is really popular in there and has gained even a ton of popularity in the last few decades!
In this article, I go through reasons why soccer is a Top sport in Mexico, as well as some interesting details!
Why is Soccer popular in Mexico?
Below 6 reasons making from the sport really big in Mexico:
1. The Beautiful Game
Soccer really is a beautiful game, appealing to people from different backgrounds, cultures, dialects, regions and varying socio-economic circumstances and uniting them in a way that few forces ever can.
Mexico is a country which has more than its fair share or problems – great disparities of wealth between a privileged few and the majority living in impoverished conditions, a high crime rate, and, linked to that major drugs problem.
Soccer is a way to unite the people in a common cause and gives them something to believe in and get passionate about.
2. Poverty is no barrier
Important Side Note: If you are a soccer beginner or amateur and would like to improve your soccer skills, then I strongly recommend to use soccer shoes with decent Quality  and reliable Grip to perform at the best of your abilities. You can have a quick look at these quality soccer cleats to get an idea!
At its simplest level, soccer can be played anywhere, anytime, using whatever is to hand. All you need is two players and something which can be fashioned into a ball.
Millions of Mexicans cannot afford the expensive equipment and accessories needed to play other sports, but everybody can play soccer, whether it is on a manicured pitch or on the local streets.
That makes it accessible to all, irrespective of income.
3. Universal appeal
Allied to this it is universal appeal whether you are a sixty-year-old man or five-year-old girl.
Anybody can play the game. And that is proved in Mexico where a growing number of women and girls are now playing the game.
The Mexican women's team is currently ranked 27th in the world and rising, and barriers to females taking up the sport are fast being eroded.
4. Simple to learn
One of the reasons for soccer's almost ubiquitous popularity is its simplicity. It is easy to learn in essence and despite the vagaries of the offside law, most people can pick it up in a few minutes.
5. Rivalries
Rivalries between teams bring about the passion in people. They are often based on politics, geography, religion, or other socio factors but, whatever the reason, they become the centre of media and fan attention in the run-up to a big game between two competing sides.
Mexico has more than its fair share of rivalries between clubs that can grind the country to a virtual stop when games between them are played.
Here are just a few:
El Clásico Nacional – Chivas vs America
This is a clash of old and new. Chivas come for Guadalajara, Mexico's second-biggest city and the home of tequila and mariachi.
They have a tradition of signing only Mexican players, whereas Americas come from Mexico City, are owned by Televisa, the country's most powerful media group, and regularly pay big money on foreign signings.
Both teams have won the league 12 times.
El Clásico Tapatio – Chivas vs Atlas
This Guadalajara derby is a battle between teams that represent different economic groups.
Atlas is a team traditionally supported by the middle classes, whereas Chivas represents el pueblo – the construction workers, street vendors, taxi drivers, and those employed in the informal economy.
Clásico Regio – Monterrey vs Tigres
The Monterrey rivalry dates back to competition between two learning institutes – Tigres is linked to the city's public university, whilst Monterrey represented the private Institute of Technology and Higher Education.
Mexico vs United States
There is also an international sports rivalry with the United States, the two major powers of the CONCACAF region.
Matches between the two are also box office, not least because when the games are played in the US, large members of the Mexican diaspora come out to support the visitors.
There is also an underlying political element to the rivalry.
Some Americans look down on Mexicans as the poor neighbours south of the border, which Mexicans understandably resent.
Ally that to the anti-immigration policies advocated by President Donald Trump and you have another reason for enmity.
6. International Success
At least regionally Mexico have enjoyed international success.
They have been CONCACAF (North America, Central America, and the Caribbean) Champions 11 times, won the CONCACAF Cup in 2015, and, as a guest side, have been runners-up in the Copa América twice.
Globally, they won the Confederations Cup in 1999, and have twice been World Cup quarter-finalists.
7. World Cups
When the 2026 World Cup begins (jointly hosted with the USA and Canada), Mexico will become the only country to have staged the World Cup three times.
That is a sense of immense pride to Mexicans and makes them love the sport even more.
Is soccer growing in Mexico?
Soccer continues to grow in Mexico. The Liga MX is the most watched league in the Americas, attracting more viewers than either MLS or the Premier League, whilst the growth of the women's game is attracting more female players and viewers.
And, with the 2026 World Cup on the horizon, interest in the game is likely to grow even more intense.
When and How did soccer start in Mexico?
As was the case in many countries, soccer was imported into the country in the early years of the 20th century by European immigrants, mainly miners from the Cornwall area of England, and subsequently Spanish exiles fleeing the Civil War in their own country.
Mexico began playing a series of friendlies in 1923, but it was only four years later that the official governing body of the sport in the country was established.
The following year Mexico took part for the first time in the Summer Olympics in Amsterdam. Two years later they were one of the 11 teams that participated in the inaugural World Cup in Uruguay.
It would not be until 1943 that the men's game went professional, whilst the first women's professional league Liga MX Femenil only launched in 2017.
Has Mexico ever won any competitions?
As stated above, Mexico has enjoyed a great deal of success at regional level, winning 11 CONCACAF Championships (Gold Cups) more than any other nation, as well as the CONCACAF Cup in 2015.
They also won the Confederations Cup in 1999 and have twice been World-Cup quarter-finalists (on both occasions when the tournament was staged on home soil)
There has also been success in a number of minor tournaments such as the Pan-American Games, the US Cup, and the North American Nations Cup.
How much does a soccer player make in Mexico?
Some soccer players in Mexico can make a very good living from the game whereas those lower down the football pyramid struggle to make ends meet.
At the elite level, a regular for a Liga MX club can expect to make US $54,000 a month, but this drops to US $810 a month for somebody in the lower ranked Ascensio MX, and US $405 a month for those who ply their trade in Premier A.
However, there are a handful of players who make a lot more than that.
For example, the former Bayern Munich, Manchester City and Blackburn Rovers striker Roque Santa Cruz was paid US $ 2.6 million a year when he was signed by Cruz Azul in 2015, whilst Oribe Peralta became the best-paid Mexican player in the league when he agreed an annual contract worth US $2.5 million with America.
Best Mexican soccer players of all time …
Mexico has produced some great soccer players in its time. Here are few of the best.
1. Hugo Sánchez
Striker Sánchez enjoyed his greatest club success in Spain where he played for both Madrid sides, Atlético and Real. With the latter he won the league in five successive seasons, and also clinched the Copa del Rey and the UEFA Cup.
He was the top goal scorer in La Liga five times and won the European Golden Shoe in 1990.
He played for Mexico 58 times, scoring 29 goals.
2. Claudio Suárez
Suárez played a record 177 times for Mexico, making him fourth on the all-time list.
The defender known as the Emperor because of his commanding style and presence in the box, spent most of his club career in Mexico, playing for UNAM, Guadalajara, and then their local rivals Tigres.
3. Javier "Chicharito" Hernández
The striker known as "Little Pea" has played most of his career outside Mexico. Now in the MLS with LA Galaxy, he has played for Real Madrid, Bayer Leverkusen, and Sevilla, but he is best known for his five-year spell with Manchester United, during which time he won the Premier League twice.
He is Mexico's all-time leading goal scorer with 52 goals in 109 appearances to date.
Is boxing bigger than soccer in Mexico?
Boxing is a very popular sport in Mexico but it cannot compete with soccer when it comes to the millions watching and competing in it. In Mexico there is soccer then all the other sports. It is a national obsession.
One of the reasons for boxing's popularity is because the country has produced a string of world champions, with the roster of famous names including Julio César Chávez, Salvador Sánchez, Juan Manuel Márquez, Rail García and Antonio Margarito, to name but a few.
There is also a local rivalry with Puerto Rica which means that a bout between fighters from the two nations always attracts big audiences.
Final Thoughts: How does the future look like?
The future for Mexican soccer continues to look bright, with interest in the game only likely to grow more in the run-up to the 2026 World Cup.
At the same time, the women's game is also taking off, with more women and girls taking the sport up.
Lastly, if you are interested to learn about the 2 biggest nations in soccer, the you should check those 2 articles:
You will learn why each of those 2 countries are good at soccer!