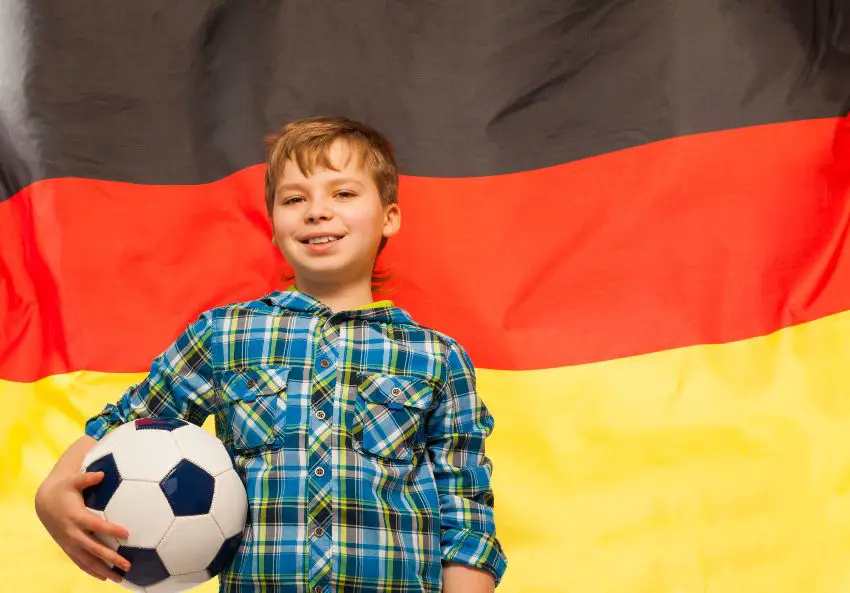 Germany soccer national team and coaching philosophy is, by far, my favorite in Europe! They've managed to build a strong foundation over the years which made them really really Good!
In this article, I breakdown what has made the German Soccer System as successful as it is, as well as, some interesting information that you might find it inspiring if you want to grow as a soccer player, coach or even a club!
Let's dive in.
Why is Germany so good at soccer?
Below my top 5 factors that has particularly contributed to Germany's success as Soccer Nation!
1. Coaching
There are more registered coaches in Germany than any other country. In 2018, the number of registered coaches in the country was close to 35,000, which compares very favorably with England where there were less than 3,000.
That means that players at all levels are likely to have a proper education on how to play the game.
Important Side Note: If you are a soccer beginner or amateur and would like to improve your soccer skills, then I strongly recommend to use soccer shoes with decent Quality  and reliable Grip to perform at the best of your abilities. You can have a quick look at these quality soccer cleats to get an idea!
2. Youth development
Unlike some countries where youth development is regarded as a necessary evil, it is a pre-requisite in Germany that a professional team has an academy system if they are to be granted a license.
That means that they take them seriously, and, with a good pool of coaches available as well, Bundesliga teams always look to develop a good crop of home-produced players.
3. Young players are given their chance
This also means that young players are given a chance at an early age. For example, in December 2020, Youssoufa Moukoko made history when he became the youngest player to appear in the Champions League for Borussia Dortmund.
He was 16 years and one day old.
That means that, by the time players are judged ready for the national side, they may have years of experience already, even at a young age.
They not only know what it is to play with and against the best, but also have the temperament to deal with playing in front of big crowds.
4. More home- grown players
As a consequence of the emphasis on youth and because many Bundesliga sides do not have such deep pockets as some of their English, Italian or Spanish counterparts, there are more home-grown players for the national team manager to choose from than equivalent leagues. In 2017/2018, 472 different players appeared in the Bundesliga, 45% of whom were German.
The percentage of players qualified to play for the English national team in the Premier League that season was 31%.
This is totally the opposite in US Soccer, especially for men … Indeed, US soccer men teams are usually quite bad in general!
5. Winter Break
Germany has a long winter break, partly for climatic reasons. This gives players the chance to recover their form and fitness after months of intense training over the Christmas period, when it is the busiest time of the year for their Premier League equivalents.
It means often that German players have more fitness going into international tournaments in the summer when players from other nations are often on their knees physically.
German national team's great history …
The Germans are amongst the most successful international teams of all time, having won four World Cups and been beaten finalists on a further four occasions.
They have also won three European Championships (and again been runners-up three times) and won the Confederations Cup in 2017.
They are also the only team to have won both the men and the women's World Cup.
It is impossible to talk about the German national team without mentioning the political context. Prior to 1939, they played in the 1934 and 1938 World Cup with Germany finishing third in 1934.
However, after the event of the Second World War, the country was separated into two parts, and two different teams played – West and East Germany.
Much of their early success was gained under the West German name and it was not until the end of 1990 that the country was reunified again.
As West Germany, having been banned from the competition in 1950, they won it in 1954 beating Hungary in the final in what became known as the Miracle of Berne, because they had lost to the same opponents in the group stages 8 -3.
They lost to England in the 1966 Cup Final, but in 1974, when the World Cup was played on home soil, they won the World Cup for the second time, beating the Netherlands in the final in Munich.
In both 1982 and 1986 they were beaten finalists again, losing to first Italy and then Argentina, but got their revenge over the South Americans in Rome in 1990, to lift the World Cup for the third time as West Germany.
As Germany, they secured third placed finishes in 2006 and 2010 and then won the trophy again in Brazil in 2014, once more beating Argentina in the final, and thrashing the hosts 7 -1 in the semis.
In terms of the European Championships, they first won it in 1972, beating the Soviet Union in the final in Brussels. Four years later they finished runners-up, losing to Czechoslovakia in a penalty shoot-out, before again winning it in 1980 when Italy hosted the tournament, beating the Belgians in the final in Rome.
Their most recent victory in the tournament came in 1996 when it was staged in England, beating the Czech Republic in the final at Wembley. They were beaten finalists in 2008, losing to Spain.
The German women won the World Cup in 2003 when it was hosted in the United States, beating Sweden in the final, and then defended their title four years later in China, this time defeating Brazil to lift the trophy.
What makes the Bundesliga so good?
There are a number of reasons why the Bundesliga is so good!
It consistently tops the charts for the most attended league in world football, with clubs like Borussia Dortmund and Bayern Munich sold out for every game, regardless of the opposition.
Another factor that should be considered is clubs are owned by the fans, unlike their counterparts in England where most sides are backed by multi-billionaires.
A rule introduced in 1998 prevents clubs in the top two tiers of German football having external investors as majority shareholders. That means that the fans hold a majority of voting rights in their club, helping to forge a closer relationship between clubs and their supporters.
In fact, clubs like Borussia Dortmund attract a sizeable audience from foreign fans who are disillusioned by wealthy corporate owners in their own country.
An exception is RB Leipzig who have managed to get around the rule by making shares in their own team too expensive for "ordinary people" to own. As a result, they are the most disliked team in the country.
The ownership model means that tickets are more affordable than in many other European countries, meaning that the poor and the working class, now priced out of the game in England, Spain, and Italy, can still afford to go to many games a season.
And, consequently, many who attend games in Germany are true fans, as opposed to visitors who wait to be entertained. That makes going to a Bundesliga game a vibrant and authentic experience.
Is Germany good at futsal too?
Although futsal is increasingly popular in Germany, they have failed to achieve significant success on the international stage.
They have yet to appear at the Futsal World Cup, for example, which hasn't been played since 1989.
Best German soccer players of all time?
Germany has produced many great players over the years. Here are three of the best.
1. Gerd Müller
Nicknamed "The Bomber", Müller was the ultimate penalty-box striker, scoring 68 goals in 62 games for the national side, including the winner in the 1974 World Cup Final.
He scored 566 club goals for Bayern Munich and boasts the best goals-to-game ratio in the European Cup (Champions League) with 35 goals in as many games.
2. Franz Beckenbauer
One of the few men to both captain and then manage a World Cup winning side, Beckenbauer began life as a midfielder, before he was dropped further back into the libero role, a position he helped define.
That would see him the furthest back when his team were defending, but then he would step into midfield when they had possession to create the extra man.
He won four Bundesliga titles and three European Cups with Bayern Munich.
3. Sepp Maier
Germany has a tradition of producing great goalkeepers, with Oliver Kahn, Jens Lehman, and current national captain Manuel Neuer amongst them.
However, arguably the best of the lot was Maier who kept four clean sheets in the 1974 World Cup and was regarded as the top goalkeeper in the world for many years.
Other sports Germany is good at
Handball is extremely popular in smaller German cities which do not have a major soccer team locally based to attract the crowds. The German handball league is considered one of the best in the world, and, although on the international stage, they have been inconsistent performers, Germany did win the World Cup for the first time in 2007.
Germany has produced more than its fair share of Formula One stars with both Michael Schumacher and Sebastian Vettel multiple world champions.
There has been a drop-off in interest since Vettel stopped winning races, but next season may see a revival when Schumacher's son, Mick, enters the sport.
Skiing is also well-followed during the winter months and is a popular pastime for many. However, it has been some years since they produced a superstar, the last arguably being Markus Wasmeier, who won Olympic gold in 1994 in Giant Slalom and Super-G.
Final Thoughts: How Germany soccer's future looks like?
Soccer is the number one sport in Germany, both in terms of participation and the number of people watching it, and no other sport can come close to matching its dominance.
And the country can expect to achieve further success at both club and international level. Club-wise, Bayern Munich won the Champions League in 2020, and are favourites to defend their title next year. RB Leipzig also got to the semi-finals showing the strength in depth of the league.
The national team had a disappointing 2018 World Cup and have been struggling a little of late by their own very high standards.
But the country has a winning mentality when it comes to international tournaments. Sooner or later – and probably sooner – they will be back winning championships again.
In the end, I highly encourage you to check this article on how soccer has gained popularity in Canada in the last decade … You will find that quite useful!