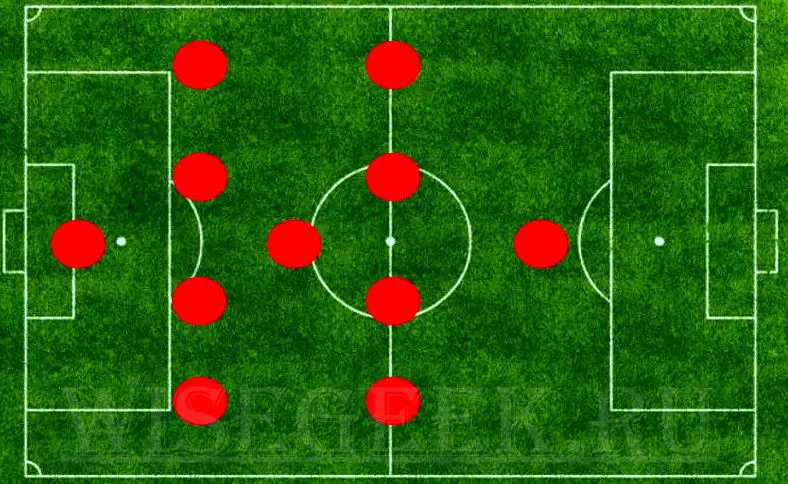 There are some soccer formations that require pretty experienced players to do well! The 4-1-4-1 formation is one of those …
… Yes it is highly effective if you want to control in the Middlefield and impose your teams will when it comes to possession. However, you need to have talented players who understand their roles properly that can execute the game plan properly.
This article breakdown everything you need to know about this soccer tactic.
Important Side Note: If you are a soccer beginner or amateur and would like to improve your soccer skills, then I strongly recommend to use soccer shoes with decent Quality  and reliable Grip to perform at the best of your abilities. You can have a quick look at these quality soccer cleats to get an idea!
4-1-4-1 Soccer Formation – General Overview
When it is most effective           
This formation is extremely useful for teams whose game is based on having a high percentage of ball possession!
It is mostly used in situations when the team's philosophy is based on pressuring the opponents in their own half, as this formation has five players always positioned there.
This allows them to put an additional pressure, both in defensive and offensive movement. When the team recovers the ball possession, having that many players in the opponent's half gives the possibility to play fast and endanger the goal.
This formation is truly effective especially if you have an agile defensive midfielder, so he can provide adequate support for the midfielders in front of him.
Where it is most common?
The 4-1-4-1 formation is used in all top European leagues, such as England, Germany, Spain and Italy.
It is related mostly to teams that are attacking oriented, and the teams that tend to play on the opponent's half.
Having plenty of skillful and fast midfielders will nurture the ability to impose more pace and pressure for the entire 90 minutes.
Some of the teams that use it are Bayern Munich, Manchester City, Chelsea, Real Madrid and Juventus.
Coaches from these clubs love 4-1-4-1 formation because it gives their players a lot of flexibility and tactical freedom in the game.
Pros
Additional defensive stability. The 4-1-4-1 formation gives defensive stability to teams, because the defensive midfielder provides support to the defensive line. In that way, after losing the ball possession up front, there are enough players at the back to prevent counter attack.
More space for attacking oriented players. This formation does not neglect the offensive aspect, as it provides a lot of freedom to attacking players. They have enough space to express their creativity.
Flexible formation. This kind of playing structure enhances the ability of transformation to some other formation and positions structure, so that helps adapting to other team's playing style.
Cons
The effectiveness of formation depends highly on defensive midfielders. It is essential to have the top defensive midfielder in a team. If the team does not have a player at mentioned position that possess required skills, the designed tactics will not be useful as it can be.
The attacker has huge responsibility and suffers a lot of pressure. He must be equally good at playing on the ground and in the air. This is the result of necessity having one striker up front, so he must play the role of target man and conquer space in front of opponent's goal.
Midfielders must have appropriate tactical knowledge. The 4-1-4-1 demands from midfielders to constantly move up and down the field and use empty space in their favor. They must provide support to the striker, as he is alone up front and isolated. Midfielders have to communicate all the time and cooperate in order to use the space when attacking, but also to narrow the space available to rivals when defending.
4-1-4-1 soccer formation Player responsibilities
In this section we will use Pep Guardiola's Man City 4-1-4-1 to illustrate the different players roles for this formation!
1. Goalkeeper (Ederson)
Goalkeeper among all must communicate with his defensive line and suggest to them if there is a gap.
Ederson is a great example of a goalkeeper who is involved all the time in the game, not only when defending, but also when Manchester City has the possession of the ball.
Ederson often plays as fifth player in the middle of the defensive line, which allows defenders to move more up to flanks.
In addition to goalkeeping skills, due to this active role when his team has the ball, goalkeepers in 4-1-4-1 formation must have great passing and ball control abilities.
2. Center Backs (Josh Stones and Ruben Dias)
Josh Stones and Ruben Dias have great understanding of their respective roles and they are the main reason why Manchester City had the best defense in English Premier League.
Their bravery in duel game and strength allows them to clear the danger in front of their goal. They are also capable of moving with the ball confidently and without panicking, passing it toward full backs or midfielders.
As this formation tends to make the use of full backs and wingers, two of them must cover the space left behind and prevent counter attacks.
3. Full Backs (Kyle Walker and Benjamin Mendy)
Full backs must close the entire gap on the flanks and prevent opposing players from making effective crosses.
They cover rival's wingers and have constant duel games with them. When attacking, it is expected from them to join the attack and help their wingers, making a surplus of players on the side.
Kyle Walker and Benjamin Mendy, in addition to Joao Cancello, are the players characterized with powerful runs and sharp cross passes.
They can easily create an advantage in player numbers in front of the opponent's goal and assist their teammates.
4. Defensive Midfielder (Rodrigo)
In order for this system to work, the player in this position has a massive responsibility and has little to no room for making mistakes.
He is the player that organizes the beginning of the attack and has the role of deep lying playmaker.
He must stay focused and calm all the time. Rodrigo is an example of a quality defensive midfielder. Rodrigo covers the line behind the rest of midfielders and must anticipate the opponents' movement in order to intercept the ball and prevent their attack from developing.
He is the leader on the field and must have highly developed leadership skill and tactical understanding of the game.
When defending, Rodrigo often goes a little lower in formation and helps the defending line as third center back.
5. Center Midfielders (Kevin De Bruyne and Bernardo Silva)
Center midfielders play in the space between their own and opposing defensive line. Due to their great movement radius, they must be physically impeccable and have a high level of endurance.
These players can have the role of classic 10, box-to-box players, or the mix of offensively and defensively oriented players.
In order to win the middle part of the playing field, it is important to cooperate with the defensive midfielder.
In addition, these players must work together with wingers in the organizing of the attack, so they can create 3 on 2 or 2 on 1 situations.
Kevin De Bruyne and Bernardo Silva position themselves perfectly. Bernardo Silva is more offensive player and tends to position himself in a way to use empty space to receive the pass, while Kevin De Bruyne is a masterclass when it comes to get himself in a position to evaluate all the alternatives and choose the best way to assist their teammates
6. Wingers (Raheem Sterling and Riyad Mahrez)
Wingers play at much wider positions and their role in this formation is massive. When attacking, they are expected to make a cross at the side and to assist their teammates or to directly endanger the opponent's goal.
As they have great dribbling abilities and explosive first step, wingers use these abilities to pass around their guardians and create an advantage in player numbers.
They must always look for a way to use the empty space on the flanks. When defending, they assist full backs and try to neutralize the threat coming from the rival players at the side.
7. Attacker (Sergio Aguero)
As being alone in the last line of the formation, he must be able to hold the ball and protect it from numerous defenders surrounding him.
The attacker here plays the role of target man, and must stay calm and send high quality passes to teammates joining the attack.
Players here can play either target man or false 9 position. Sergio Aguero is a great example for a player at this position. He is good both off and on the ball.
His dribbling ability and speed, in combination with a low center of balance help him to keep the possession of the ball. He also must have great movement without the ball, in order to use the most effectively empty space up front.
The striker here has the task to make the opponent's defense wider and open a gap for one of his teammates.
Coaching Style for this formation …
Joachim Low, head coach of German National Team won the World Cup using mainly this formation.
Pep Guardiola has played for years using this tactic and system, in Bayern Munich before, and recently in Manchester City.
It is characteristic for teams that want to have higher ball possession and put the ball under control, in order to impose their own pace of game to the rival.
That is why they tend to have their attacks starting from the back line, even from the goalkeeper, which gives them the control over the ball all the time.
Easy transformation of players' positions allow 4-1-4-1 formation to adapt to conditions on the field and always provide a way to react promptly and take advantage over opponents.
One example of this is the possibility of quick counter attack, with the use of fast wingers. This kind of formation gives a lot of freedom to players to show creativity and they always have many available options when attacking.
The diversity in the attacking phase, combined with stability when defending, are the reasons why 4-1-4-1 formation is used by many coaches.
Final Thought: Other Close formations …
This is maybe the most flexible formation when it comes to transformation into other playing formations!
When attacking, it is easy to transform to 4-3-3 formation, with wingers joining the attacking line. If just one of the wingers joins the attack, the formation becomes 4-1-3-2.
With defensive midfielder positioning lower at the role of center back, while full backs join the midfield as a side midfielders, gives this tactics freedom to move winger to the attack.
That creates an extremely offensive 3-4-3 formation, especially useful when chasing the result.
When needed to create more defensive formation, this can easily become 4-5-1 or even 5-4-1 formation.
Finally, if you want to learn about other powerful formations, then you probably need to have a look at: