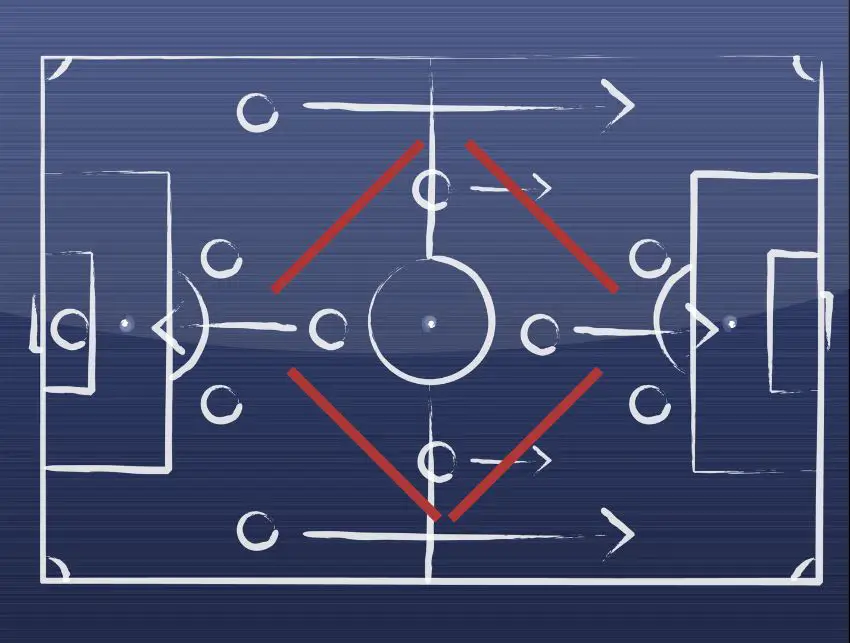 The 4-4-2 is not only one of the most popular soccer formations out there, it is also one of the most flexible ones! Indeed, it can take many forms depending on the situation and the kind of players available …
… A common form of this formation is the Diamond 4-4-2!
This article focuses and breakdown this variation. You will learn exactly what it takes to be successful utilizing this formation.
Important Side Note: If you are a soccer beginner or amateur and would like to improve your soccer skills, then I strongly recommend to use soccer shoes with decent Quality  and reliable Grip to perform at the best of your abilities. You can have a quick look at these quality soccer cleats to get an idea!
4-4-2 Diamond Soccer Formation – General Overview
1. When it is most effective?      
This Soccer Formation is mostly used when a team wants to have more stability and control in the midfield!
Unlike classic 4-4-2 formation, where midfielders are positioned in line with each other, the diamond structure has one defensive midfielder behind the middle line, one attacking midfielder up front, and two box-to-box midfielders positioned at the center.
These box-to-box midfielders have to cover significant distance and have large movement radius.
This formation is especially effective with technically superior players in the midfield. Tight structure of players in the middle allows the team to keep the ball possession and to form another line of defense in front of defenders when needed.
2. Where it is most common?
This formation is widely used in the top leagues in Europe, such as England, Spain and Italy!
In England, for many years the 4-4-2 diamond formation is considered as an appropriate solution to cover the most parts of the field.
Manchester City plays this season mostly in this formation. What is extremely interesting is that diamond structure is played more and more in Spanish Primera.
In addition, Italian coaches prefer this playing style. Juventus FC used this formation while led by famous coach Max Allegri.
Pros
More confident when defending. Unlike formations with three players in the last line, in formations with four defenders, players feel more comfortable while playing.
Easy to create pressure on opponents. Densely distributed players in the middle are the crucial part of formation. Defensive midfielder gives massive support to defense, by putting a pressure on opponent's number 10, or by joining defensive line as third center back. The surplus of players in the center of the field can lead to 4vs3 and 4vs2 situations, which makes recovering the possession of the ball much easier task.
A lot of space for playmakers. Attacking midfielder, especially with the role of advanced playmaker, have a lot of freedom to express creativity in play.
Cons
No wingers to exploit the flanks. Main shortcoming of 4-4-2 diamond formation is the absence of wingers, which leads to not enough players for wider play. For playing on the flanks, you have to use the wingers, so not having a winger in this formation may be a problem not only in the attacking phase, but also when defending against teams with side players.
Danger of counter attack. Lack of space at wide may lead to quick counter attacks from opponents, and this can be an extremely difficult situation to defend.
Formation can be disrupted. Opposing wingers with their constant runs may disrupt formation of a team by forcing players to roam from their positions.
Physically demanding formation for midfielders. This loss of balance demands a lot of running and quickness in reaction, so box-to-box midfielders must be physically well prepared.
4-4-2 diamond soccer formation Player responsibilities
1. Full backs
Their physical attributes (stamina, endurance ….) must be at highest possible level, in order to respond to all challenges in the defensive and attacking phase of play.
As this formation has no offensive wingers, full backs often have to take over the tasks of this role when attacking, so they have to cover the entire side of the field.
This demands impeccable motor skills and enviable speed!
FC Inter Milano, under the guidance of Jose Mourinho won the Champions League trophy in 2010 using 4-4-2 diamond formation, with incredible performance from full back Douglas Sisenando Maicon…
His amazing sprinting abilities and phenomenal 1 on 1 play, not only in defensive tasks, but also when attacking. His ability to pass around his opponents at flanks allowed him to make the most of empty space up front.
When it comes to defending activities, he was able to easily cover space behind the defensive line and get to the ball before his opponents.
2. Center backs
Players at this position must have solid cooperation and communication!
Lucio and Samuel, Brazilian duo, were the key of Inter's strong defense and gave stability to the entire team.
In general, center backs at this formation must be mentally strong and have a high level of focus. Strong players, with tremendous strength in duel games, and great jumping ability.
If you have a full back as Maicon in your team, then the main task of center back is to cover the space left behind, after the full back joins the attack. When attacking, their role is to play calm passes toward the players in the middle. This is extremely important when midfielders are forced to play return pass due to the pressure from opponents.
3. Defensive midfielder
For many coaches, players and soccer fans, this is the key player in 4-4-2 diamond formation!
This kind of player was Esteban Cambiasso, a player considered the main man behind Inter success in 2010.
In diamond formation, it is often seen that defensive midfielder joins the defensive line, becoming third center back.
This is especially important when covering the opponent's number 10 player, and putting an additional pressure on him.
The focus is on defensive tasks, pass interception, recovering the ball possession, helping the center backs and ruining the flow of the opponent's play.
Defensive midfielder must possess good ability to read the game and anticipate the play, and he is a leader in the organization of both, attacking and defensive play.
When attacking, he must make precise passes to his teammates, change the focus of the play, and move the ball from defensive to offensive line. This makes his contribution to the team's play irreplaceable.
4. Box-to-box midfielder
Players occupying such a position are the ones who do the dirty work!
Their main role is to spoil every single attack of the opposing team, preferably from the start. They play a high pressure on the opposite midfielder.
Playing at this position requires a lot of effort and endurance. They have to balance between defense and offense, and support players at the both sides of the playing field.
5. Attacking midfielder
These players have more freedom in the pitch and are the ones who have the most technical and creativity attributes!
Creativity when passing the ball, space awareness, dribbling and determination are some of the attributes attacking midfielders must have.
The player with these abilities in the famous Inter generation was Wesley Sneijder. He was the constant danger for the opponent's goal, creating chances for his teammates.
Often, he finished the attacks by himself with powerful shots from distance. His movement off the ball was a joy to watch, mostly between the lines of the opposing team.
Sneijder was a player of high soccer intelligence, with great dribbling and ball control abilities. That allowed him to solve many 1 on 1 situations and make use of empty space.
6. Attackers
Attackers in this formation have an important role in both offensive and defensive tasks!
Inter FC champions team in 2010 had two top attackers, Diego Milito and Samuel Eto'o. In the attacking phase, their role is to make a run into empty space up front and try to endanger the opponent's goal.
They must be able to hold the possession of the ball and protect it in a duel game. They must be able to assist their teammates and if needed to play return pass.
In addition, when moving without the ball, their role is to stretch the opponent's defense. When the team is in a defensive phase, the defense actually starts from them.
Mourinho's defense had the attackers putting the pressure on the opponent's back line, preventing passing the ball to the flanks.
4-4-2 diamond formation soccer coaching
1. Coaching Style (Juventus as example)
The 4-4-2 diamond formation allowed Juventus (in the Allegri Era) to control the middle of the field, with a tight position of players.
This was not only important when attacking, but also when defending!
New positions of players in the middle of the field ensured a high pressing game and easier ball recovery.
Narrowing the space in the middle limit the space available for opponents to use, which made it easier for Juventus midfielders to recover possession.
This kind of formation allows constant forming of a triangle of players in the opponent's half court, which is useful for passing game in a narrow space.
Allegri had a successful time in Juventus with this formation, surpassing even Antonio Conte, famous Juventus coach, whose accomplishments with this team were extraordinary.
Coaches that use this formation are often perfectionist when it comes to tactics.
The tactic requires entire playing to be covered and to stop the opponents from developing effective play. The goal is to narrow the space for opponents to use as much as possible.
Allegri used it, Jose Mourinho with his Inter team in 2010, Pep Guardiola uses it today. Manchester United played during the guidance of Louis van Gaal, and today it is often used by Ole Gunnar Solskjaer.
2. Drills Suggestions …
Place the players in the middle of the playing field in diamond structure. Limit the space around each player with cones, which represents his moving area during the game.
Divide players in two teams and practice their movement, giving all the time tips and suggestions.
When the ball is at the right side, defending players on the left move toward the ball and put an additional pressure, while players on the right side move toward the middle part.
The positions of players in diamond is quite narrow, so it is the best option to practice ball protection in the limited space.
Limit the area on 20 yards square, place two teams of four players. Each side has two additional players, called joker, which are the players that can receive the ball and pass it toward other players.
The jokers cannot be pressured or attacked by their opponents, and they have a task of ball distribution. This drill helps improve ball protection and movement without the ball.
Final Thought: Other Close formations …
Formations that are similar to the 4-4-2 diamond is the 4-3-3. In the latter, the team plays with three attackers, but the striker in the middle may roam to a little lower position and play as attacking midfielder, similar to 4-4-2 diamond.
Two other formations are 3-5-2 and 3-4-3, where defensive midfielder joins the defensive line like in 4-4-2 diamond, while rest of midfielders form a diamond structure.
Finally, I highly invite you to check those other helpful soccer formations … You will find them really interesting: