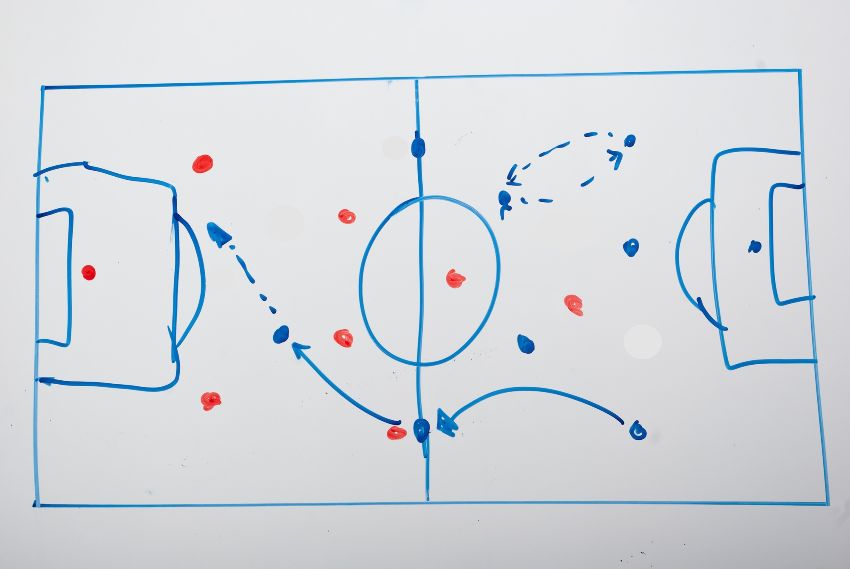 Although 8v8 soccer is not that common these days, they are sometimes used to teach young players the rudiments of the game, including tactical discipline and positioning on the pitch.
Formations though are only as good as the players that a coach has at their disposal, and often it is their quality, or otherwise, that dictates which line-up a team adopts.
This article includes all the possible formations that could be used in 8v8 formations.
Important Side Note: If you are a soccer beginner or amateur and would like to improve your soccer skills, then I strongly recommend to use soccer shoes with decent Quality  and reliable Grip to perform at the best of your abilities. You can have a quick look at these quality soccer cleats to get an idea!
3-2-2
Description
This is one of the most commonly used 8v8 formations. It consists of three defenders at the back, two midfielders, and two strikers ahead of them.
It particularly suits younger teams because each player knows exactly what is expected of them on the field of play
Required Skills
A lot of responsibility is placed on the two midfielders in this formation, who are required to do a lot of running and must offer width, whilst at the same time not leaving too big a gap between them.
Because of this possibility, some teams when out of the position have one of the strikers dropping back to provide an extra man in midfield.
Pros
Each player on the field has a clearly defined role and responsibility;
It offers solid defensive cover;
It enables partnerships to be created all over the pitch – between strikers, midfielders, and defenders.
Cons
There is no natural width in midfield or attack, and the formation can become very narrow, especially out of possession;
The central midfielders have a lot of responsibility, not only to help in attack and defence, but to provide width as well. However, if they play too far apart, they will leave gaps in the centre of midfield;
It is reliant on at least one of the strikers dropping back when the team is without the ball or a side can be outnumbered.
2-3-2
Description
This formation consists of two defenders, three midfielders, two of whom play wide, and two strikers.
Required Skills
For this formation to be successful, the two wide midfielders will have dual responsibilities, both to support the attack, but also to drop back when needed to help the defence.
The central midfielder also needs to hold their position as they will be responsible for starting and changing the point of attack. They must not start too far forward.
Pros
This formation is suitable for teams that like to attack and have a lot of possession;
It offers balance between defence and attack and provides natural width;
Each player has a clearly defined role on the pitch.
Cons
The burden on the wide midfielders can become too great, especially as a game gets into the latter stages and they begin to tire;
If the two wingers are caught too far up the pitch, then the defence will be left exposed behind them;
Playing with two strikers can be a luxury against a densely packed midfield, and they may not see a lot of the ball.
3-3-1
Description
This formation features three defenders and three midfielders stretched across the field, with one striker ahead of them.
Required Skills
The two wide midfielders must get forward to support the lone striker, otherwise this becomes a very defensive formation, with the defence and midfield packed. That means that they must be more like conventional wingers rather than normal midfielders.
At the same time this system needs a forward who can hold the line by themselves, and defenders who are prepared to push up to fill the gaps left by the marauding wide pair.
Pros
This formation provides natural width;
It offers good defensive cover;
Suits a team who like to have a lot of possession of the ball, and who have good passers.
Cons
The striker can easily become isolated if not supported properly by the two wide midfielders;
The formation can become too defensive with the midfielders packed in front of the defenders behind them;
If the two wide midfielders get caught up the pitch, the players can become outnumbered behind them on the counterattack.
2-4-1
Description
This formation will be familiar to followers of professional soccer because it relies on a diamond shape in midfield with two defenders and a striker either side of it.
It suits teams who either lack natural wide players, or who like to enjoy possession in the centre and build from there.
Required Skills
This is a demanding formation because the roles are less clearly defined than in some line-ups. Players need to be tactically aware and intelligent, and to develop an understanding as to who is to do what on the pitch. It also needs good passers and players who are comfortable on the ball.
The player who features at the tipoff the diamond mist be an offensively minded player.
Pros
This is a formation ideally suited to a possession-based team;
The diamond shape enables the opposition to be pressed in all key areas;
It is a flexible and fluid formation, and allows for an interchange of positions, especially between the midfield four.
Cons
The formation can become very narrow unless at least one of the midfield four takes responsibility for drifting wide;
Because the roles and responsibilities are not clearly defined, some players can struggle to understand where they should stand and which space they should occupy on the field. It is probably not suitable for younger players, therefore;
If both the two wide midfielders push too far forward, then they can get by-passed by the opposition and the defence can be overwhelmed.
4-2-1
Description
This is arguably the most defensive of all formations, with four defenders, two midfielders, and the one striker.
It is rarely used, because especially in a smaller sided game because that number of defenders is regarded as overkill.
Required Skills
For this line-up to work, the key positions are the two full backs, because they will be required to provide width whenever possible.
That means they must be fit, as they will be doing a lot of running up and down the flanks.
Pros
Very solid defensive formation;
The two full backs can push forward into midfield making it a 2 – 4 -1 formation in attack;
Suits a team that does not have mobile central defenders because they will have a lot of protection around and in front of them.
Cons
The forward can become isolated and, if the two full backs do not press forward, chances can be hard to create;
One of the midfielders must take the responsibility to support the striker, whilst the other needs to sit;
If the full backs get caught up the field, the defensive shape can get stretched.
3-1-3
Description
This is an attacking formation, with three defenders, one midfielder, and three strikers.
Required Skills
This formation is reliant on at least one of the wide attackers and perhaps both of them to drop back into midfield when out of possession otherwise their size can quickly become outnumbered.
The midfielder also needs not to commit themselves too far forward, otherwise a gap can develop between them and the defence.
The strikers need to agree who plays in the various areas of the pitch.
Pros
This formation provides plenty of attacking threat;
There is natural width provided;
It suits a team with talented strikers who know they can score more goals than the opposition.
Cons
It is so attack minded that, if the strikers do not track back, then they can be dominated by other teams when out of possession;
A great deal of responsibility lies with the midfielder, who must act as the conduit between defence and attack;
The attackers can get in each other's way or make the same runs.
2-2-3
Description
This is a variation on the previous formation, except that one of the defenders is sacrificed for an extra man in midfield.
Required Skills
This needs two strong defenders who can react quickly to what happens in front of them, as well as midfielders, one of whom must as as an auxiliary defender when the situation demands it.
And again one or more of the strikers must be prepared to drop into midfield when out of possession.
Pros
This is an attacking formation that should provide lots of goals;
If one player from each of the two more advanced positions steps back when defending, the formation can evolve into 3-2-2;
Suits a team who like to press and defend from the front.
Cons
The midfield may be outnumbered and struggle to get hold of possession against more defensive teams;
If the forwards lose the ball, then the line-up can become very narrow and the team becomes vulnerable in the full-back area;
Unless a team has defenders of the right calibre, they may struggle with their extra responsibilities in this system.
Final Thoughts …
I've tried to include all possible formations in this short post to, hopefully, give you a global idea on what you should expect in 8v8 soccer! Most of these formations could be easily merged with each other as well as used in the same match …
… So, don't stick to just one, try to mix it up depending on the team you are facing!
In the end, if you are interested in other formations, you might also have a look at: