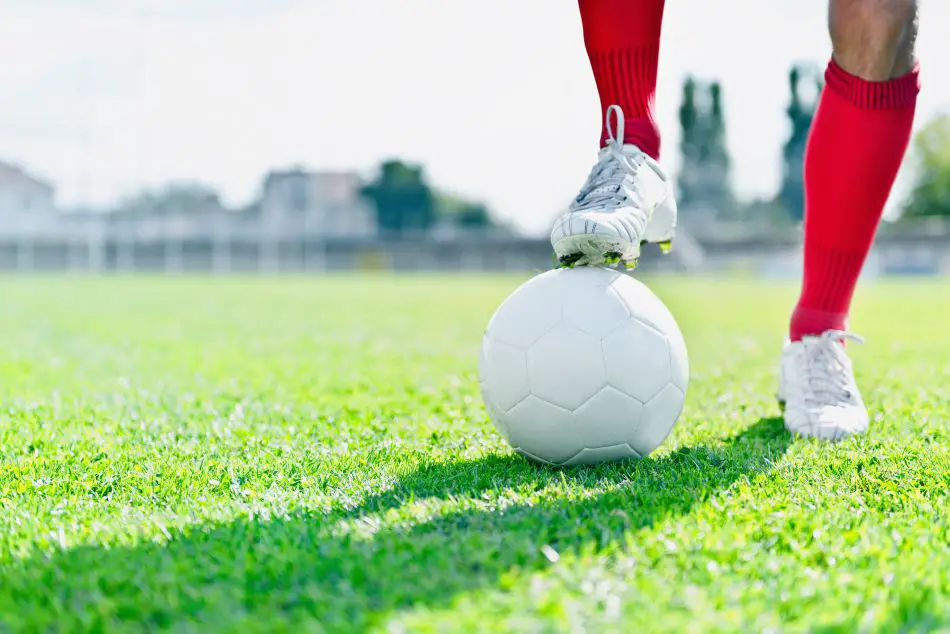 Ball control is one of the most important skills that you should master in soccer! Just have a look at the most legendary players in history and watch their ball control, you will see why they were that great …
… Anyway, in this Post I will focus solely on the tight cleats that you should wear to make ball control easier for you regardless of the situation you are playing in.
Let's dive in!
Best Soccer Clear for Ball Control …
1. For Grass
For grass fields, firm ground cleats are the perfect option. No other company is synonymous with soccer other than Adidas.
The Nemeziz 19.4 cleats (Check it Here on Amazon) are man-made, synthetic sole cleats designed for natural grass fields. They offer a lace up design and are regular fit – this means they are true to size.
Why does the lace design and fit matter when it comes to cleats?
If you typically play soccer in your everyday running shoes, then the transition to cleats will be seamless. Considering the sole is made of lightweight synthetic material, you'll feel as though you are wearing your regular running shoes.
Unlike most traditional running shoes, these cleats offer a mono tongue. The advantage of a mono tongue design is how it can form to your foot better. Basically, it makes the cleat feel less like a shoe and more like a protective sock.
Attackers who want to make quick cuts, will want a cleat with a mono tongue. These cleats offer a lockdown fit which will not roll under the foot during crossovers and offer more stability.
Grass fields can get slippery, and you'll want all the stability you can get.
2. Turf
Turf is artificial grass. It is mostly found on indoor fields. Feels like grass, but can be slightly slicker than real grass. Nonetheless, the difference can be minimal if the conditions are right.
With turf, you'll want to choose a cleat designed for artificial turf -manufactures make this easy to determine by adding TF to the description of the cleat.
Nike is Adidas direct competitor, and their Mercurial Superfly VI cleat (Check it Here on Amazon) is up to par with its competitors cleats.
The Mercurial Superfly line is specific to short grass and artificial turf. Unlike most grass cleats, these however do not offer studs, but instead raised ridges that offer grip comparable to studs.
These ridges do not run the risk of damaging turf, which may be a concern on indoor fields.
Nike designed the specialized sole for acceleration and lightning direction changes -so, they claim. Considering there are no studs, and soft-insole for low profile cushioning, there may be some truth to this claim.
Another feature worth mentioning is the Dynamic Fit collar for comfort and stability. Instead of a traditional tongue design, Mercurial Superflys offer a collar similar to that of a sock.
If the collar adds stability is debatable, it does offer additional low-profile cushioning which can be useful for players who stand for long periods of time.
3. Indoor Soccer
Indoor soccer, or Futsal, continues to grow in popularity. The focus is the short game.
Pinpoint accurate passes, unbelievable dribbling skills and fast-paced action condenses soccer into a digestible sport. Plus, it can be played any time of the year.
You'll need a cleat designed for indoor playing fields, and that can withstand season after season of abuse.
It should be an obvious choice, Adidas Samba Classics (Check it Here on Amazon).
These iconic shoes have been a soccer mainstay since the 1950's. It's for good reason too. The shoes do exactly as they are made to do. Help you grip the hard surfaces for stability, all while protecting your feet with 100% leather.
Indoor soccer is played with Futsal balls. Which are low bounce – this means a heavier ball. You will get better control of the ball on hard surfaces, but your feet will take a beating after firing off a shot on goal.
That's why 100% leather is ideal for indoor soccer shoes. Along with rubber soles to help plant your feet better.
Some people with low arches will not enjoy these shoes. The high arch support in the shoe causes discomfort, and it can be remedied by flipping over the inner soles of the shoes. Other than that, it is as close to perfect as you can get for an indoor soccer shoe.
4. Muddy, Rainy, and Snowy Conditions
Asics make high-tech, affordable shoes for running and walking. However, bigger brands such as Adidas, Nike, and Pumas come to mind first when talking about soccer cleats. Asics however, offers a soccer cleat that will perform excellently in slick conditions.
The Lethal Tigreor 4 cleats (Check it Here on Amazon) are 100% leather, have a synthetic sole, and have metal studs for digging into softer outdoor surfaces.
When you are playing outside on softer surfaces, having metal studs will make a huge impact on how you perform. Lethal Tigreor 4s stud configuration will give you maximum maneuverability.
If you can out maneuver opponents on the field, especially slick fields, then you become dangerous.
The soft leather upper molds to your foot, which combined with a traditional lace up tongue design will give you complete ball control without sacrificing stability on slippery surfaces.
So far, mono tongue has been brought up and it has its advantages. But, lace up tongues give players a smoother kicking surface. Add in some 100% leather and you have a surface that will help deliver more power while protecting your foot.
5. Inexpensive Cleat
Inexpensive does not equal lesser quality. For the most part that statement is true. You get what you pay for, but that does not mean you cannot find an affordable cleat that will perform well.
It comes down to your field. Slick fields that require metal studded cleats means you'll be paying more.
If you are just beginning with soccer, then joining an outdoor soccer team is your best option for learning the basics. And the best cleat that is inexpensive for this scenario is the Adidas Goletto VII Firm Ground soccer shoe (Check it Here on Amazon).
All the materials that make up this shoe are all synthetic – this means lightweight. Will it protect your feet like leather? Maybe not. However, anyone looking for inexpensive cleats is more than likely not at a level that can kick the ball hard and with accuracy. So, that means no use for added protection.
Instead, a lightweight cleat with decent stability is ideal. Fortunately, the Goletto VIIs fit true to size. You can easily find a pair that will fit like a glove if you search for these cleats in the same size as your regular running shoes.
Beginners looking to start in the sport will want to avoid spending a lot of money at first. In case the sport is not for them. Rather than invest in expensive cleats that get used infrequently, choose the Goletto VIIs as a starting point.
How important is ball control in soccer?
Ball control is one of the most important skills, if not the most important skill in soccer. Without ball control then turnovers will happen frequently. Shots will be missed. Passes will be given to opponents.
If you cannot control the ball, then you will easily lose it to the opponent. Ball control skills play a huge role in all this, but having the right cleat is often overlooked.
Firm ground cleats on wet surfaces will make it difficult to control the ball since you will not be able to dig into the ground for stability. This is one example of how having the wrong cleat affects ball control.
How to practice, improve and master ball control (drills)?
Lace up the proper cleats for the surface you will be playing on. Then dedicate at minimum an hour for practice.
The only way you will be able to improve is by practicing in similar conditions you will be playing in. If you are an indoor soccer player, then you need to be playing on turf or hard gym room surfaces. Outdoor soccer players need to be on grass.
Otherwise, you will be uncomfortable playing on surfaces you are not used to.
Here are three drills to help with ball control:
Happy Feet – Use the inside touch of your feet to pass the ball between both feet. Focus on longevity. Keep the ball going back and forth without getting away from you.
Toe-Touches – Lift your knee up and touch the top of the ball. Bring that foot back down to ground while simultaneously bringing the other foot to the ball. The idea is to get comfortable pulling and rolling the top of the ball. It begins with the touch, you can advance the drill by moving the ball around, then resetting for the next foot.
Pull and Turn – Push the ball with the outside of your foot. Next, use that same foot to pull the ball back with the inside across your body. Now, use the other foot to do the same.
What soccer position is best for players with good ball control?
All players can benefit from good ball control. Offensive players with good ball control pose the most threat on the field. If they can out maneuver a defensive player, then they have set themselves up for more shots to the goal.
Any offensive position is ideal for good ball control. The number one position is debatable, however strikers can take good ball control and turn it into excellent play making.
You can also learn about the right soccer clear for each position …
Final Thoughts …
I am really happy because I can see that you are worried about making your ball control better by taking care of the small details like the proper cleat to wear … That's a very good sign!
Believe me, once you master ball control, soccer will become easier and much more enjoyable for you!
Finally, I highly encourage you to learn about those soccer cleat suggestions for faster players! I think you will find those very helpul  …