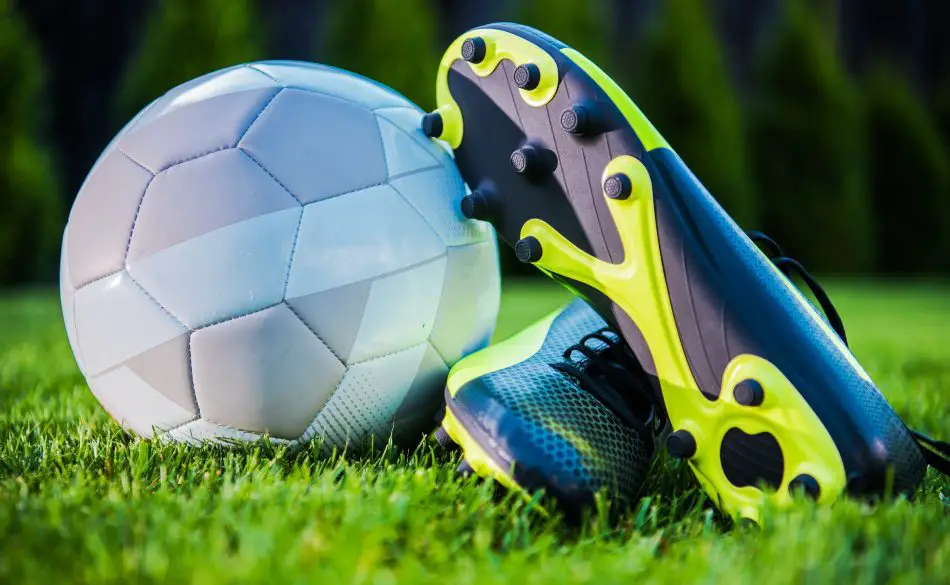 In soccer each position requires specific skills and attributes to be able to perform at the maximum of your abilities! This goes along with the gear that you should wear including soccer cleats …
… In fact wearing cleats that matches your position and attributes as a player will help you perform even better!
In this article I breakdown my favorite cleats for each soccer position.
Strikers/ Offensive Players
Strikers need a pair of cleats that can really take a beating, match after match of full force kicks. No other material can withstand this kind of abuse like leather. Nor does any other material give responsive feedback like leather.
Any offensive player, but center forwards especially, need a leather cleat proven time and time again to perform well consistently. The Adidas Copa Mundial (Check it Here on Amazon) is that cleat.
For over the 30+ years the Copa Mundials have been a staple in the soccer community – from amateur to professional levels. These cleats are made out of soft kangaroo leather. They are durable, but soft enough to give a close feel for the ball.
This close feel will help you slightly improve your shooting accuracy!
Having a responsive feel is ideal for a center forward that needs to dribble pass the defense. Plus, the leather is tough enough to stand up against hard kicks.
Copa Mundials dual-density outsole are made for comfort and have set the standard for firm-ground play. For those centers not on grass, Copa Mundials are also available for turf fields.
One drawback is the outdated design. As iconic as they may be, their looks are severely outdated. Which is why the Nike T90 Laser IV  is a close second.
These cleats are made from synthetic materials, except the Kanga-Lite upper is close to leather as you can get. It offers the same superior natural touch.
For any player taking a shot on goal, having a cleat upper that is tough is important. Nike took this a step further on the T90s by creating an adaptive shield on the strike zone of the cleat. Plastic triangles are placed on flexible strips to enhance shot power and accuracy.
Wingers
Any who has ever played winger knows how under appreciated the position. Wingers have to be able to control a wide amount of the field at any given time.
This means play can either be slow or arduous. A winger can expect upwards of 20 minutes without ever touching the ball, then go to immediately having to make a move on a whim.
What should a winger look for in a cleat?
Ideally comfort should be their main concern since so much time goes by without making a move. When they are called upon, they should be able to spring into action.
A mixture of comfort and the ability to accelerate quickly – the emphasis on comfort.
The Adidas Predator Lz TRX cleats (Check it Here on Amazon) are a good pick for wingers. They have a streamlined Sprint Frame, which makes them the lightest Predators of the line for quick acceleration.
Having a cushioned EVA insole is great for comfort, but it's the outsole on these cleats that make them a top pick. Traxion, the name of the outsole, offers maximum ground penetration and minimum stud pressure – less discomfort while standing in these cleats.
Attacking Midfielders
Midfielders, on either side, can make or break a team. The most under appreciated player, besides wingers, is the attacking midfielders. Some refer to them as the playmaker.
It's for good reason why these essential players are named the playmaker. They must scan the field as quickly as possible and get the ball to the right player at the right time. Always on the move and constantly looking to keep the ball moving towards the goal.
Similar to a winger, comfort is ideal since a lot of ground can be covered. The Predators can fill a lot of roles on this list. But, for an attacking midfielder the Puma Powercat 1.12 cleats (Check it Here on Amazon) are a better option.
Attacking midfielders will spend more time in contact with the ball than a winger, and will be passing or shooting more often too. Powercats offer a dual density strike zone, allowing firmer rebound after striking the ball. Additionally, there is more cushion in the region for ball control.
The extra cushion translates to more specialized touch and more power behind kicks.
Center Midfielders
The gatekeepers between the offense and the defense. They control the middle of the field. It is up to either side to make sure the ball is not a complete turnover. Center midfielders also have the responsibility of making plays just like attacking midfielders.
The middle of the field is a lot of field to cover and that also means all around. These players need to be alert a full 360 degrees. They must keep an eye on the ball from a distance, and when it gets too close, they are there to stop and reposition the team.
This position is the most versatile, and some would argue one of the top three most difficult positions on the field. Cleats for this position need to be comfortable and designed for striking.
A long distance pass is required often from these players and the Adidas Adipure 11 Pro TRX cleats (Check it Here on Amazon) provide comfort and power.
These cleats are made from Taurus leather and are coated with Duracoating for added protection to the leather.
It's the 360 degree support saddle that is the main selling point for midfielders. The midfoot is offered enhanced stability during lateral movements. PlusFlex is the name for this enhanced technology specific for lateral movements.
As a midfielder, they will be spending a great deal of time moving from left to right covering the field. These cleats fit the needs perfectly.
Ball control is a very important skill for center midfielders, that's why I highly invite you to check those soccer cleat recommendations for better ball control …
Defensive Midfielder
Let's say the ball gets past the center midfielder, it is up to the defensive midfielder to help get the ball back into possession. These players need to be fast, and aggressive.
Nike Premier II leather cleats (Check it Here on Amazon) are lightweight. Any cleat lightweight is perfect for any defensive player. The Premiers offer soft kangaroo leather. As you know, this type of leather gives a better feel for the ball.
It's the conical studs on these that deliver consistent traction and a comfortable feel underfoot, which is a huge selling point for these cleats.
Center Back
The heart of any team's defense is the center back position. These defenders are the most aggressive players on the field out of the whole defense. Ideally, a team will want players not afraid to go for a tackle or take on any other player head on.
What should these players look for in a cleat?
Leather is a priority for its durability. The Nike T90s  may be synthetic, but they are durable enough to withstand slide tackles. Plus, the outsole is aimed at players who need to change directions quickly.
Playing defense means being quick on your toes when offensive players try to dribble pass. A sudden change in direction to chase down the ball is necessary. The Nike T90s are an excellent choice for this.
Full Back
These players could consider them an extension of the goalkeeper. They reach out a little further than a goalkeeper. Hopefully they can defend right outside the box.
Either left or right full back defenders have a responsibility of stealing the ball moments before a shot is taken on goal. Speed is king for these players. Puma King Platinums (Check it Here on Amazon) are as lightweight as they come. They weigh 7.2 ounces and are designed to be streamlined for speed.
If need be, the leather upper will withstand a tackle. Fortunately, kangaroo leather makes up the upper portion of the boot and will give a full back ultimate touch and feel for the ball. This added control will come in handy when trying to dribble an aggressive offensive player.
Goalkeeper
Goalkeepers are similar to midfielders and wingers. They can either be standing still for long periods of time or need to be fast as lighting in a split second. These players have a ton of pressure on them and need to be able to act quickly.
Again, Adidas Adipure 11s (Check it Here on Amazon) are ideal for these types of players because the lateral movement support offered by the cleats.. Watching a goalkeeper move within the posts
Nike T90s are another good option.
Often overlooked for goalkeepers is their ability to make long passes. A cleat with an improved strike zone such as the Nike Predator 20.3 gives goalkeepers the ability to make accurate long passes.
Predator 20.3shave raised elements on the forefoot to add extra swerve to the ball. This makes long passes appear to head one way but end up another. This sudden swerve can throw off the opposing team.
Final Thoughts …
Hope this article has given you enough ideas on the right cleat to choose depending on the position you are playing in …
… I don't want you to feel obligated to but these specific cleats I've mentioned in the article!
These are just examples (obviously good examples)! But if you can't afford those, you can still choose other cleats with similar characteristics!
Wish you best of luck!
Finally, I highly encourage you to learn about these interesting differences between soccer and softball cleats! I think you'll learn a lot …