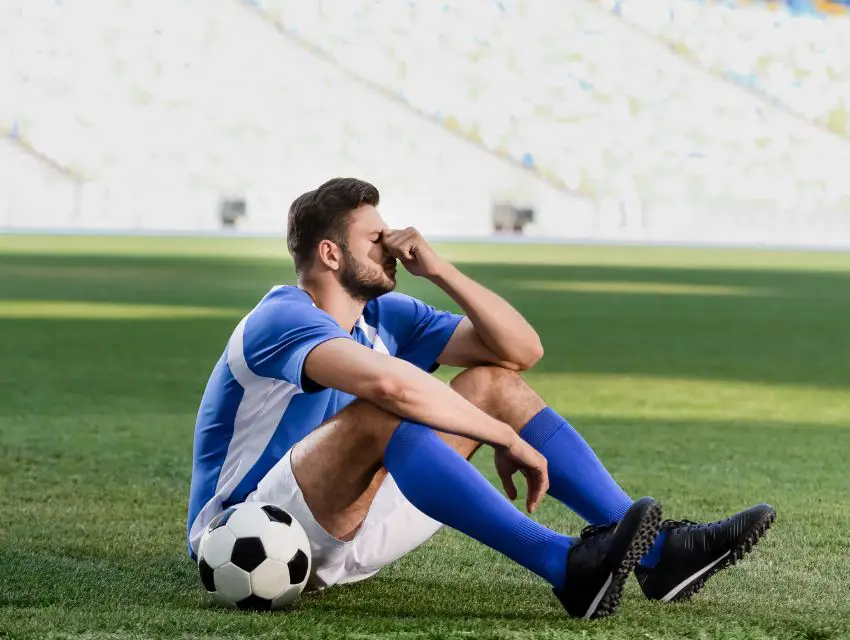 I am only 32 years of age, however, I've retired (not sure if I will come back) about 2 years ago! This was due to multiple injuries (in my ankle, knees, back and shoulder) …
… I've recovered from most of those, so I am thinking these days whether I need to come back or stay retired.
Meanwhile, I've decided to put together this article where I share the reasons why a soccer player might consider retiring early and call it a career!
Important Side Note: If you are a soccer beginner or amateur and would like to improve your soccer skills, then I strongly recommend to use soccer shoes with decent Quality  and reliable Grip to perform at the best of your abilities. You can have a quick look at these quality soccer cleats to get an idea!
Why do soccer players retire so early?
1. Drop in physical capabilities.
With age, soccer players tend to lose their physical abilities, mostly speed, strength and endurance.
When a player gets into his thirties, it is much harder for him to keep up with the pace of the game. Especially if you consider young and fast players on the field.
Modern soccer has a tight schedule, many games, and intense training is mandatory in order to keep performance at the required level.
All this demands a high level of fitness and physical preparation. Unfortunately, with age, muscles tend to wear, joints and knees are weaker, and soccer players become slower and prone to injury.
Their bodies can no longer handle the vigorous activities that are required to be a good soccer player.
Due to this, most commonly in mid-thirties, players decide to change the competition and go into leagues that are of lesser quality and do not demand such a high pace of the game. Afterwards, decide to finish their career.
2. Injuries
Most common reason for forced retirement. There are many cases of severe injuries, which put a stop to some of the most promising soccer careers.
One of the most serious injuries of football players, in addition to a broken leg or arm, is an injury to the anterior cruciate ligaments.
This strong ligament stabilizes the knee, and it is considered as one of the most serious injuries in sports.
About 60 percent of all soccer injuries are knee injuries. Foot injuries are also common due to contact with opposing players, jumping, shooting or bad equipment.
Keep in mind that shin guards alone, can prevent up to 50% of soccer injuries … I highly invite you to learn how you should wear shin guards for soccer!
3. No time for their family
Modern soccer requires a lot of obligations and competitive matches to be played. Tight schedule demands a lot of time, and this often results in not having enough time for their families.
As they all have a desire to spend more time with their family members, some of them decide to end their careers.
4. Nothing more to achieve …
As in other activities in life, this can be the problem in soccer also. Players, especially the ones playing at top tier clubs, have the opportunity to win many trophies in various competitions.
If they succeed, it is often the case they experience the lack of motivation to continue their career. Sometimes, even the great amounts of money they receive is not a good enough reason.
Some of them try to change the environment, and change the country, or even the continent, in pursuit for new challenges.
5. Other Personal reasons
Some players decide to end their career due to other personal reasons.
Some of them have emotional problems and depression. There are soccer players that lost the will to play, whether of disappointment, argues. In addition, for some of them the reason is the will for career change.
Keep in mind that there are some cases where players decide to retire early because of a bad coach … That's why, I've put together an article on How to deal with a bad soccer coach … I think you will find it useful!
At what age do soccer players retire?
Average age of soccer players' retirement is 35 years old!
When soccer players come to their thirties, they cannot keep the performance level, due to the drop in their physical capabilities.
The age range of soccer players' retirement is different around the world and it depends mostly on the intensity level of the competition they participate.
In Europe, soccer players retire in the age range 33 – 37 years. This is because European soccer leagues are the best ones in the world, especially when we talk about Top 5 leagues (England, Spain, Italy, Germany, and France).
Soccer pace at these leagues is much faster and more demanding physically, so it is harder for players to play after their thirties. Often players continue their career in some lower European leagues, or change the continent entirely.
Players in Latin America play a bit longer, as these leagues are less demanding physically than European leagues and there are many leagues the players can offer their services.
The retirement range here is 34 – 40 years. Meanwhile, Asian continent has attracted many players from Europe to end their career there, as more and more clubs from Asia are ready to spend huge amounts of money to attract well-known players from European clubs and raise the quality of their own competitions.
hat extended playing time of soccer players in Asia, so todays' playing range is around 34 – 38 years.
How does this compare to other sports?
Unlike soccer players, football players mostly retire before their 30s. This is the result of football being more physically demanding sport than soccer, due to harsh tackles and contacts with opponents.
Due to the nature of this sport, it is much harder for them to stay uninjured. Even if they achieved that, they are not physically capable to follow the demands of the sport around the age of 30.
When you consider this fact, it is more appropriate to say that football players finish their career, and not retire.
Mitigating circumstance is that they can ensure their pension after three playing years in the NFL. One exception here can be kickers, as this position is not so demanding and it is more similar to a soccer player's career.
Basketball players end their career in their mid to late thirties. At this age, their body changes more rapidly than in their twenties.
Their speed and explosiveness decreases, while injury risk increases due to the drop in fitness level.
This decline is often followed by a change in playing style, with many players focusing more on the shooting game, and not so much on dribbling to the basket.
When we talk about baseball, players retire at different ages, depending on their playing positon. Most of them finish their career in late thirties, some even at forties.
Pitchers have longer careers, due to the fact they do little or no hitting of the ball at all. They primarily use their aiming technique, and rarely get a hit.
Soccer is often compared to basketball … You can check this interesting comparaison between soccer and basketball … I think you will find it useful.
Examples of soccer players who retired too early!
Eric Cantona's sudden retirement shocked the soccer world. He ended his career at age of 30, although being a vital part of the team's success during the nineties.
Cantona retired at the prime of his game. The reason behind his retirement lies exactly here. He played soccer professionally for thirteen years, and decided it was enough and that he already achieved everything he wanted.
George Best was one of the greatest soccer players of all time and Manchester United and Northern Ireland national team legend.
George Best gave up playing soccer at the 28 years of age. George Best's goals and playing style is remembered for their beauty and dribbling skills, which shocked the world. Unfortunately, alcohol abuse and lifestyle lead to performance drop and poor appearance, which resulted in breaking up of the contract with Manchester United, the club he left after making 470 appearances.
It is interesting the case of goalkeeper Carlos Roa, member of Argentinian national team. He is remembered as a goalkeeper who did not concede any goal at 1998 World Cup.
He was a hero of the knockout stage game with England, which Argentina won after a penalty shootout. He retired at age 29, after deciding to devote the rest of his life to his religion.
Examples of soccer players who were forced to retire early!
Adrian Doherty was a Manchester United promising star and a member of "Class of 92" generation. His teammates at youth academy were Ryan Gigs and Paul Scholes, and everyone who watched him play considered him as equal to them.
Doherty was a skillful winger and fast player. Unfortunately, he suffered fatal injury of knee ligaments, injury from which he never fully recovered. Adrian was only 24 years old when he retired.
Owen Hargreaves played for soccer greats like Bayern Munich and Manchester United. Promising player, but unfortunately a career with continuous injuries.
His knee was constantly giving him troubles, and despite many surgeries and therapies, he could not recover. Owen's career ended in 2012, when no team wanted to sign him, due to his injury prone reputation. He was only 31.
Chris Naumoff was a rising star, talented player in Australian A-League. He became Sydney FC regular first team player quite early, and his amazing performances here lead to a transfer to Spain.
He agreed a deal with Spanish club Numancia, but a medical test before concluding a deal revealed something unexpected. Chris was suffering from hypertrophic cardiomyopathy, which causes a portion of his heart to thicken.
This discovery resulted in ending his career, being just 21 years old.
Examples of soccer players who have retired too old?
Paolo Maldini is one of the individuals who had a long and lasting career. From 1985 to 2009, many players passed through Milan, but Maldini was more than a player.
Maldini was captain and leader of AC Milan, and he led them to many accomplishments and trophies.  Until today, he is remembered as one of the best players in the history of Italian club.
His influence and defending abilities secured him to play soccer until the age of 41, when he decided to end his career.
He will be a part of soccer history as a player who played only for one club, AC Milan, his entire career since his debut at the age of 17.
Teddy Sheringham had a rich and long career. This English soccer player retired at the age of 42, ending a 27 years long soccer career.
He was considered quite a versatile forward, capable of playing at several positions. Teddy had great technical abilities, which allowed him to keep the possession of the ball for a long time and assist their teammates when the time was right.
During his career, he recorded 926 appearances and scored staggering 361 goals, as well as 51 national team appearances and 11 goals.
Francesco Totti is another Italian player that ended his career at the age of 41. He was captain of AC Roma, and how much influence he had, shows his nickname, "The Prince of Rome". He showed mastery on the field, amazing technical abilities, with extremely powerful shots. Totti dedicated his entire playing career to AC Roma. At this team, he recorded 619 appearances and scored 250 goals.
Rivaldo, Brazilian player and national team member, retired at age of 43. One of the best players of his generation, and certainly one of the greatest Brazilian players of all time.
Skillful and creative player, with tremendous dribbling and ball control. He was also known for his long distance powerful shots.
Final Thoughts …
In my humble opinion, if you want to keep playing soccer for a long time, maybe up to your 40s is by staying away from injuries as much as you possibly can, as well as continuously working on your fitness and conditioning …
… Indeed, the skills will always be there, these usually don't go away as far as you are injury free and in the best possible shape!
Lastly, I was surprised that some people believe that soccer is losing popularity, which is probably wrong … Indeed, you can learn why soccer is not a dying sport!