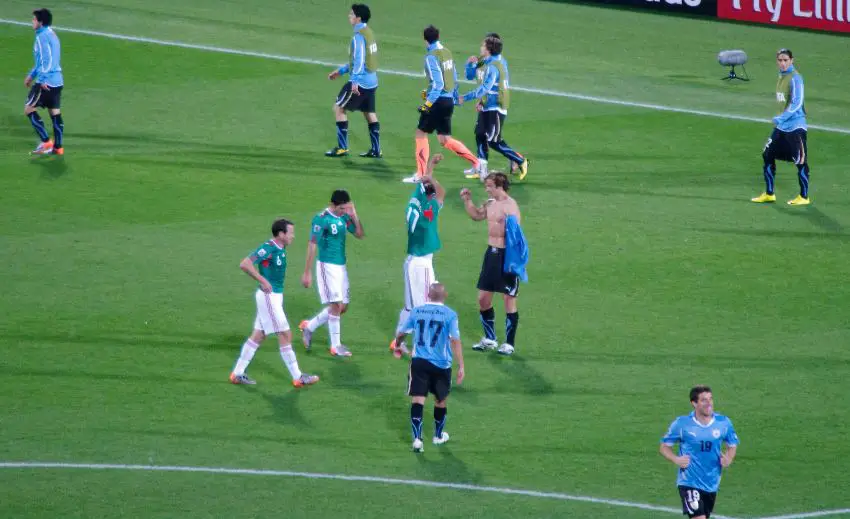 Exchanging jerseys is really common in soccer more than any other sport, as far as I can recall (I might be wrong though) … That's why, I've decided to make some research to understand all the reasons behind such a common practice, as well as the origin of this …
… This article is the result of my research, hopefully you will find it informational and interesting!
Why do soccer players exchange jerseys?
This tradition, that made soccer unique among other sports, started in the year 1931 at the soccer game between France and England.
Main reason for exchanging jerseys, the one from which the tradition started, was to show respect toward the opponent.
In many cases, players exchange their jersey with the best player from the opposing team, showing their admiration for his skill, abilities and knowledge of soccer as a game they all cherish.
It was a common scene of soccer superstars exchanging their jerseys after the referee's final whistle on the soccer matches across the world.
Second reason is to keep the memory of the game, for the time when they finish their professional career.
When the player puts an end to his playing days, he often evokes the memories of the games he played. Having the jersey of those particular games, makes the event even more memorable and fills the players with pride and adoration.
Especially if having the jersey of the games played against fierce rivals. Many players have entire collections of jerseys, reminding them of all their achievements.
Motivation of some players to exchange jerseys after a game is to get into possession of a jersey from a player they admire, or is their idol.
This is especially important to young players, starting their career. This often means a world to some of them, as this is the way to speak to their idols and show their respect.
One beautiful reason for exchanging jerseys is expressing a sports spirit. Although fierce rivals and opponents on the field, in the end of a game all that does not matter.
What matters is to show respect to your opponent and the beautiful game, forgetting all the duels and harsh words during the match. Exchanging jerseys is a symbol of that act.
When talking about exchanging jerseys, it is interesting to mention that this tradition was during a long time established only as a part of soccer matches.
Although, when it comes to soccer this is an 90+ years long tradition, other sports just recently started accepting it.
This was a long time, a good way to teach players to be humble in victory, and dignified in defeat.
It is worth to mention that this practice is also quite common for both Futsal and Indoor Soccer!
Do they change jerseys at halftime?
Important Side Note: If you are a soccer beginner or amateur and would like to improve your soccer skills, then I strongly recommend to use soccer shoes with decent Quality  and reliable Grip to perform at the best of your abilities. You can have a quick look at these quality soccer cleats to get an idea!
Changing jerseys at halftime occurs more often than you would think!
Most of the time, players change their jerseys at the end of the game with the player who is closest to them at the end of the game.
However, there is always some player in the opposing team whose jersey you would like the most to have in your possession.
When that is the case, players tend to agree to exchange jerseys at halftime. In that way, a player ensures the jersey he would like the most, and avoids the situation of being left out.
This new practice caused many controversies, both from the fans and soccer coaches. For doing this exchange at halftime, soccer superstars such as Eden Hazard and Mario Balotelli, were the targets of criticism.
It is a special case when players from soccer rivals do this at halftime!
For instance, in 2012, in the game between Manchester United and Arsenal. The Gunners player Andre Santos exchanged his jersey with Robin Van Persie, which caused angry reactions from their fans and manager Arsene Wenger …
… Van Persie scored a goal for the "Red Devils" at that match. Interesting to know is the fact that Van Persie came to United precisely from Arsenal.
In 2014, Mario Balotelli, at the moment when his team was losing 3 to 0 against Real Madrid, exchanged his jersey with Portugal defensive player Pepe, which resulted in a huge wave of disapproval and anger from Liverpool fans, as well as their manager Brendan Rogers …
… Many people viewed this gesture of Balotelli as a lack of respect toward the club. Even though his team was far behind and chasing results, he found time to change the jerseys.
In spite of this, exchanging jerseys should be something interpreted as a way for players to express their respect toward opposing players.
It is hard to picture a situation where players would not want to change their jersey with Lionel Messi or Cristiano Ronaldo. And that is much easier to accomplish at halftime.
Finally, I would like to add that this practice does not exist in basketball … You can also learn about other interesting differences between soccer and basketball.
What do soccer players do with these exchanged jerseys?
Many players tend to make jersey collections from different games and competitions they participated in during their career.
Soccer is a beautiful game, and many players marked their playing era, shaped this sport and made it what it is today.
For many people today, the best player in the world is Lionel Messi, who happens to be a passionate jersey collector.
His teammate Gerard Pique can also commend with a rich jersey collection. This is the way players can keep the piece of soccer history in their possession and at the same time show the respect toward the game they love and the players that are a part of it. It is also a display of someone's enviable career, when you see all the players he played with.
Soccer players also use their collection as a way for collecting funds one day when necessary, as a part of charity auctions. Selling a jersey in this way helps gathering the money for a noble goal.
Do they exchange other things?
This is not the case. Other things such as cleats, socks, club shirts, soccer players in most cases give to their fans.
These are considered game souvenirs and fans cherish them a lot. There are numerous examples in the world of soccer where fans were jumping over fences, running away from security, just to hug the player they admire and love, or to take some souvenir from him.
The greatness of experienced players is easily seen when new, young and talented players join first team.
It is well known the story of Diego Armando Maradona, and his divine stature in the city of Napoli in Italy. He is the most responsible for two championship titles of Napoli and historical successes this team achieved for his playing time.
At that time, the team joined young and talented Fabio Cannavaro. The thought itself that he will train together with Maradona meant a world to him.
Although told that it was impossible to take the ball from Diego, Cannavaro, without any hesitation, took the ball away from him on practice, with a sliding tackle.
Other players and Napoli's coach did not approve that gesture, but Maradona praised Cannavaro. After the training session, he approached Caannavaro and gave him his own pair of cleats as a gift.
Fabio Cannavaro had a rich and successful career, enjoying his playing time as a captain of Italian national team and once won the title of the best player in the world at that moment.
However, he pointed out that receiving the gift from Maradona, was the most impressionable moment of his shiny career.
These Legends have exchanges jerseys …
When thinking about soccer events throughout history, one of the most impressive images is associated with the change of jerseys in the year of 1970.
The picture shows for many the best soccer player of all time, Brazilian Pele, and fantastic defender Bobby Moore.
This picture perpetuated a true respect and mutual admiration of players, before the game at which Brazil eliminated defenders of the title England with the score 1 – 0. It was a clash of not only two great national teams, but also the clash of these two great individuals.
The photo broke down the many prejudices, and Moore often reflected to this moment as the most beautiful of his long career. He played for the England national team 90 times. On the other hand, Pele considered this photo as a crucial moment of his life, emphasizing Bobby as the best defender against whom he played.
Lionel Messi's jersey is a trophy for many soccer players. It is interesting to mention a scene from the semi-final game in 2017, when Italian defender, playing for Juventus, Leonardo Bonucci, literally chased Messi in the final minutes of the game, asking him to exchange jerseys when the match was over.
He even confronted his team captain Chielini, who was warning him to pay attention to the game.
What is more interesting, is the fact that at that moment, Juventus already achieved the result needed to eliminate Barcelona from further competition, but Bonucci's desire to get Messi's jersey was stronger than celebrating that success.
At the end of the game, Messi gave his jersey to Bonucci, making him the happiest soccer player in the world.
On the other hand, Messi only once during his career asked other players to change jerseys. It was a legendary French player Zinedine Zidane, and Messi did it when he was just starting his career.
Zidane was considered the best player in the world at that time, and it meant a lot to Messi to have his jersey in his collection.
The beginning of the Golden Era of Barcelona FC is related to Brazilian virtuoso Ronaldinho.
The player who made a huge impact in Barcelona's jersey, during his last game at stadium Camp Nou, he actually played for Italian club AC Milan.
Truly special moment happened at the end of the game when Ronaldinho and Messi exchanged jerseys. This gesture caused the delight of all fans present at the stadium.
For fans across the world, the greatest game played in the Champions League competition was the game between Manchester United and Real Madrid, played in 2003.
Game finished with Manchester winning 4 – 3. The end of the game marked the change of jerseys between two soccer superstars, Zinedine Zidane and David Beckham.
This was a gesture showing the amount of their mutual respect, with amazing playing technique. Many people reflect this detail as crucial in the later acceptance of David Beckham to join Real Madrid ranks.
Final Thoughts: Is this common in other sports?
Exchanging jerseys as a tradition in soccer started in 1931, when French players expressed their desire to change jerseys with English players, in order to perpetuate that moment.
Since then, this has become a part of soccer tradition. First documented record of this happened in World Cup 1954, and among European clubs in 1962. Long time soccer has been the only sport with this kind of practice.
Football became one of the first sports except soccer with this custom. The change of jerseys is something football players started to do recently.
NFL administration due to the Recent Pandemic outbreak decided to limit jersey exchange among the players since September this year, ordering them to do it only by mail.
When it comes to the NBA, this started in 2019, and the most deserving for this was Dwyane Wade, former Miami Heat player. Today, NBA players even during warm up, or during the game, ask to change jerseys.
Cricket is another sport where in recent years players started to exchange jerseys after the game. This is especially spread in Indian cricket teams, where it is a symbol of respect and fair play.
It is clear that this tradition is slowly spreading from soccer to other sports.
Finally, I highly encourage you to learn about these reasons why soccer jerseys are generally expensive! You will find this article really helpful …