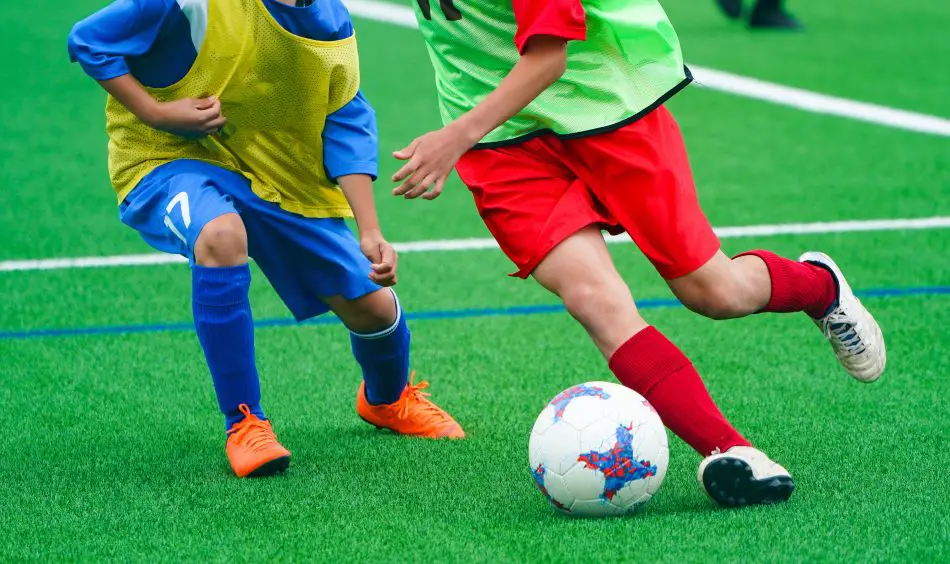 Soccer is definitely a sport of skills! In fact, teams and players with the most skills tend to win the game almost all the time …
… However, you need to bear in mind that there are positions that require more skills than others!
In this short article, I am going to breakdown the most skilled soccer positions, so you will be prepared if you choose these positions!
So, what is the most skilled position in soccer?
The most skilled position in soccer is the midfielder. Succeeding as a midfielder is not easy and requires different attributes that not many players have.
That's why teams with the best midfield tend to be the superior team usually!
Quick Tip: Midfielders usually have a playing style that requires a strong Grip to quickly change directions & perform at the best of their abilities. One Tip to help improve this capability is to use Soccer Shoes with a good Grip. You can have a quick look at these quality soccer cleats to get an idea!
Skills all Midfielders Should Have
1. Great Stamina
In soccer, midfielders have to do the most running. They have to help out on offense and defense as well as in their own midfield. Essentially, midfielders need to be wherever the ball is, so they never stop moving and they never get a break.
This can be very taxing and requires that midfielders be in tip top physical shape. Great stamina is required to be able to run at mostly full speed for 90 minutes.
2. Leadership
Midfielders must also be good leaders because it is up to them to decide where the ball goes. Midfielders distribute the ball where they want, to either the offense or the defense.
This means that midfielders determine not only where the ball goes, but the pace of the game as well. They can slow it down or speed it up just by the pass of a ball.
3. Technical and Spatial Awareness
Midfielders spend basically all of their time dribbling and passing the ball. This means they must be precise and hold a very high level of technical skill.
Normally, there are three midfielders and the most common formation they hold is a triangle. It is a must for midfielders to not only be precise in their technical skills but be aware of their spacing with other players.
Famous Midfielder
One of the best midfielders in the world is named N'Golo Kante. He plays these days for Chelsea!
Kante is both quick and intelligent with his technical skills while also calmly patrolling the field around him.
These skills have made him a two-time Premier League champion and a World Cup winner.
Does this mean that Midfielder is the hardest position?
Just because being a midfielder is the most skilled position in soccer does not mean that it is the hardest! It might be the hardest for some, but the easiest for others. It all depends on you!
There are a lot of different factors to positions in soccer. Some are physically taxing like midfielder. Some mentally taxing like goalkeeper. Some tactically taxing like defenders and some technically taxing like forwards.
Midfield just happens to encompass all of those characteristics!
Does this mean that Midfielder is the most important position?
Again, this does not mean that Midfielder is the most important position.
All of the work that the midfielder does would be for nothing if there was no goaltender to stop goals or no forwards to score them.
The beauty of soccer is that it is a team sport! All the positions work together and not one position is more important over the other.
Other Positions that require high quality skills …
There are also a lot of other positions that require a high quality of skill such as the right and left wingers, the right and left fullbacks, the goalkeeper, the sweeper, and the striker.
By the way, I highly invite you to learn how you can choose a soccer position … I think you'll find that very helpful!
1. Right/Left Winger
The right and left wingers are an offensive position that mostly assist in scoring goals.
This position requires …
Dribbling Ability: Wingers also need to be good and creative dribblers in order to win one on one encounters with the opposing defense. The sidelines aren't as crowded as the middle of the field so wingers must be able to take advantage of that.
Crossing Ability: Wingers usually bring the ball up the field and then cross it into the middle for the striker to score. Wingers must have a high, accurate kick in order to set up their striker to put the ball in the back of the net.
Mallory Pugh of the US Women's National Team and Sky Blue FC is one of the best, and youngest, forwards in the world.
Her speed and technical ability earned her a spot on the 2016 Olympic Team at just 18 years old and the now 22-year-old already has a World Cup title under her belt.
2. Right/Left Fullback
The right and left fullbacks are a defensive position that help defend the goal and the goalkeeper.
This position requires …
Defensive Ability: The full backs job is to defend! In theory, no opposing offenders should be getting past them and challenging their goalie.
Clearing Ability: Whenever fullbacks get the ball, they want it out of their end. This means that fullbacks must have a strong kick so they can get the ball all the way to the forwards on the other end of the field.
Milan Skriniar of Inter Milan is considered one of the world's best defenders.
He is deemed a phenomenal athlete who can pace the speediest of strikers. His experience in the Serie A league has also formed him into an expert at reading the game and opposing offenders.
3. Goalkeeper
The goalkeeper, or 'goalie', protects the goal and is the only player allowed to use their hands.
This position requires …
Quick Reflexes: The other team's offenders are always going to be trying to trick the goalie so they can score. The goalie must be able to adapt to any situation at any time so that they can save the goal.
Diving: A lot of the times this involves diving every which way. Goalies must not be afraid to throw their bodies around because they are going to end up using every part of their body to block goals.
4. Sweeper
Sweepers are the last piece of the defense before the goalie.
This position requires …
Communication: Sweepers have to be great at communicating because a lot of times they have to pass back to their goalie. In order to avoid a mistake goal, they must communicate very clearly.
Strength: A lot of the times, sweepers are the last round of defense before the opposing team gets dangerously close to the goal. This often leads to last ditch efforts such as slide tackling so sweepers must be strong.
Raphael Varane is a premier sweeper who plays for Real Madrid.
Varane is an expert at reading the game and has the speed to recover for his teammates mistakes if need be. The 27-year-old has four Champions League and two La Liga titles to his name.
5. Striker
The striker is the top of the offense and is often scoring most of the goals.
This position requires …
Speed: To beat out opposing defenders, strikers must be fast. Strikers need speed to be able to beat opposing defenders down the sidelines and run into empty space to receive passes from the wingers.
Shot Accuracy: Strikers are almost always scoring goals, so it is especially important that their shots are accurate. They must be on goal but not at the goalie so precise accuracy is crucial.
A very well-known famous striker is Lionel Messi. Lionel Messi is both a striker and captain for his team, Barcelona club La Liga and the Argentinian National Team.
Lionel Messi is considered one of the greatest soccer players of all time and has won the Golden Boot a record breaking six times.
The arguably most famous soccer player on the planet is a striker, you might know him – Cristiano Ronaldo.
Ronaldo plays for Juventus FC and the Portuguese National Team. His precise, strong kicks and productiveness in front of the opposing goal has earned him quite the fame and fortune.
Ronaldo is the most followed person on Instagram and a net worth of a whopping $450 million.
Final Thoughts …
Hope this article has answered your questions! Obviously, my take is that midfielders are the ones that hold the most skills …
… Yet, as you've seen earlier in this post, the other positions require as much skills!
Lastly, if you are a lefty then you definitely should have a look at those good soccer positions for lefties … You'll find those really interesting!