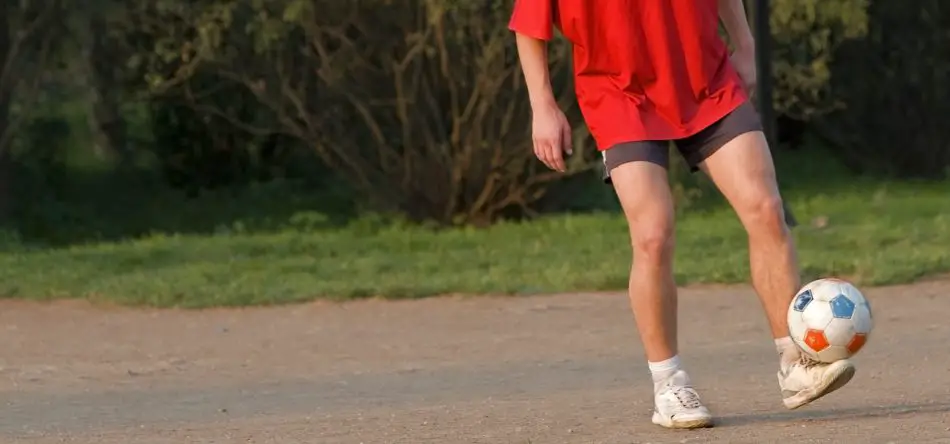 Usually, left footed soccer players tend to have better skills and better IQ. In addition, they are quite rare especially in the highest level …
… That's why for coach it is definitely important to put such a player in the right position so his team could make the most out of him!
In this Post, I breakdown many useful info about lefties including the position they should play in …
What is the best position for a lefty in soccer?
For beginners, it's a more natural fit to play on the side of the field that matches your dominant foot.
Former American National team left back Jeff Agoos explained the benefits of favoring the left side to the New York Times in 2009: "It's a supply and demand issue…There's just not a lot of supply of left-sided players, not just in the U.S. but I think around the world."
Essentially, lefties can play any core position, but it's advantageous to keep them on the left flank of the pitch, rather than on the right or center. Because of this, the best positions for most lefties to play include the left back, left halfback, and left wing.
A number of left footed players have excelled on the right wing due to a variety of personal strengths. However, these are exceptional cases reserved for exceptional talents.
Quick Tip: Soccer players playing with their left foot usually have a playing style that requires a strong Grip to perform at the best of their abilities. One Tip to help improve this capability is to use Soccer Shoes with a good Grip. You can have a quick look at these quality soccer cleats to get an idea!
Do left footed players have an advantage in soccer?
Left footed players bring a number of unique advantages to each match they play in!
The most basic one is unfamiliarity. Because there are simply more righties than lefties, someone who is left footed has an edge over opposition in the event they may be more used to countering a right footed player.
But it may go deeper than that!
A number of British universities including Oxford, St. Andrews and Bristol concluded that being left footed is associated with a number of other genetic traits related to creativity and unpredictability, possibly helping to explain the tactical innovation seen in lefties like Lionel Messi.
Many will point to both points above as mere trends or theories, and that lefties hold little real advantages when placed in elite competitions.
However, eight of the last 21 Ballon d'Or winners have been lefties, and 7 of the 20 FIFA Players of the Century have also been left footed, in spite of left-dominant humans making up just 10% of the population (fact retrieved from the18).
This points to some real underlying advantages that left footed players may have over their counterparts.
Penalties, Free Kicks, Corner Kicks … Are left footed players better?
When taking set pieces, the main difference between a righty and a lefty when delivering a ball from a given spot is whether it will be an inswinging or outswinging set piece.
If the free kick or corner kick is taken on the right side of the goal, a right footed player will normally deliver an outswinging ball that curves away from the goalkeeper, while his left footed counterpart will typically feed his teammates an inswinger that curves into the six-yard box and close to the goal line.
When the set piece is to the left of the goal, the above is reversed.
With all else being equal, there is no conventional wisdom suggesting that righties or lefties have any systemic advantages at converting set pieces into goals, so the manager has some authority to take personal preference into account when dictating who will deliver a given set piece.
However, due to their ability to set up close-range shots on target, inswinging corners do generate more goals than outswingers.
While this trend doesn't favor lefties or righties in absolute terms, it does suggest that foot dominance can play a role in set pieces on a case-by-case basis.
Why many lefties play on the wrong wing?
While righties most naturally play on the right and lefties typically play on the left, a number of left footed players have found success playing on the opposite side.
In particular, fans must study Lionel Messi and Arjen Robben.
Messi's elite dribbling and ball position skills make him a prime candidate to play on the 'wrong' wing.
His ability to cut and curl shots on target are without parallel among contemporaries. It also helps that in spite of being a natural lefty, the Argentine has a tendency to also use his right foot at certain times as well. Combine that with Barcelona's longtime style of 'tikki-takka' football that is less dependent on opposite-foot crosses, and Messi is a perfect match with the right flank.
Robben's career was marked by his signature move of cutting outside not unlike Messi. The Dutchman made such a name with this maneuver that it's now nicknamed 'Le Robben.' The tactic takes quickness and unpredictability to master.
"Timing is the key. Always," Robben told the Daily Mail in 2018. "My wife sometimes tells me that I can be very proud of that, because people say it like it's your own move: running inside and scoring a goal."
Useful Tips and Drills for left footed players …
The outside cut or 'Le Robben' is the best way a left footed player can be effective on the right side of the pitch. Righties are not used to defending lefties on this side, so the element of surprise is key here.
Another way for a lefty to counter any weakness is with an effective curl shot …
… This is a huge part of Messi's right flank arsenal. With proper body placement and an effective fundamental follow through, a shot attempt can bend as it travels in the air towards the goal. This is a great way to cancel out any one-dimensionality that comes from one foot being more dominant than the other.
But the best thing a lefty can do to improve their fitness is by strengthening their right foot. While most players have a preferred foot to use in matches, the best players can pass and score with their non-dominant foot.
A number of basic drills can help strengthen a secondary leg. Arguably the best is playing keepie uppie with oneself …
… It takes lots of practice, patience and time to feel comfortable working with a non-dominant leg, but even partial ambidextrousness can be lethal for opposing defenses.
On a side note, you can learn about these soccer positions adapted for captains … You'll probaby find those interesting!
Top 5 left footed players of all time…
5. Sir Bobby Charlton
The Englishman was one of the first global superstar lefties, suiting up for both Manchester United and the Three Lions.
He was both sides' all-time leading scorer until Wayne Rooney.
The attacking midfielder was heralded for his passing skill and combined for 257 goals between club and country.
Charlton led the Red Devils to a European Cup title in 1968 after winning both the Ballon d'Or and the FIFA World Cup in 1966.
4. Roberto Carlos
Standing at left back, the Brazilian is arguably the greatest left footed defender the game has ever seen, while also reinventing the concept of the wing back position.
He scored 47 goals for Real Madrid between 1996 and 2007, and represented O Seleção at three World Cups including Brazil's triumph in 2002.
He scored 11 goals while wearing Canary and Blue. At both the league and international levels, Carlos stood out for both his defense and attacking skills, and was selected to FIFA's All-World Cup team in 2002. Marcello is often seen as a contemporary tactical comparison to Carlos.
3. Johan Cruyff
Listed as an attacker, the Dutchman was central in the concept of 'total football,' and could play nearly anywhere on the field.
Best known during for time with Ajax and Barcelona, he was the face of football in the late 60s and 70s. He scored 238 goals for the pair of clubs, and also found the back of the net 33 times for the Netherlands.
Just as big of a figure off the pitch as on, he was named to All-20th Century team and FIFA's All-World Cup team.
Teams that have inherited Cruyff's philosophy, such as Barcelona and the Spanish national team, have gone on to win at very high levels.
2. Diego Maradona
The original transcendent Argentine superstar played with a flair that perfectly fit his national identity.
Playing both for club's in his native country as well as European sides Barcelona, Napoli and Sevilla, the attacker scored 293 goals for club and country during his senior career.
His signature moments came in the 1986 FIFA World Cup, leading Argentina to glory while scoring two goals in the quarterfinal against England, including both the infamous 'Hand of God' goal as well as a second goal later in the match that was labeled the 'Goal of the Century.'
1. Lionel Messi
Lovingly known as La Messiah, nobody has kicked a ball better with their left foot than Maradona's countrymate.
While he has been unable to win a World Cup title, he has more than made up for that void with his statistical prowess.
Messi has an list of records and accolades too long to list, while scoring an obscene 514 goals to date both with Argentina and Barcelona.
He is known for his dazzling dribbling shows and his ability to creatively elevate teammates. It may take a generation to see another human being possess such raw masterclass.
Final Thoughts …
If you are a lefty looking for a solid position and tips to make you an even better player who can operate on the maximum of his abilities, then I really hope this post has given you few ideas on how you should approach that …
… With practice, consecutive soccer games and perseverance, you will certainly end up becoming a better version of yourself!
Lastly, I highly invite you to have a look at these techiniques to choose your soccer position … I think you'll find that very helpful!