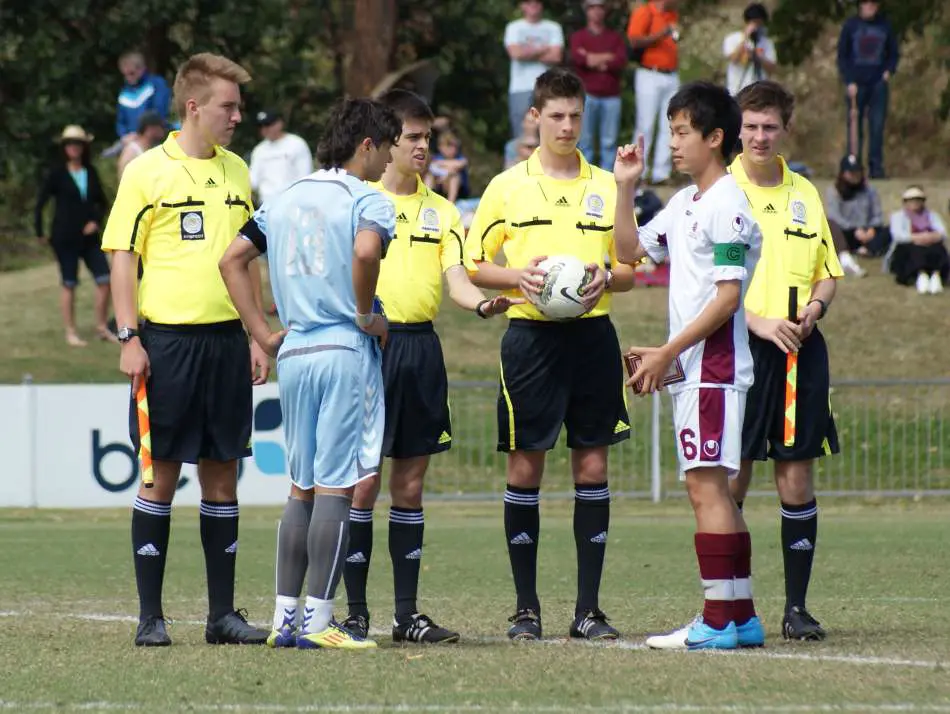 I've played hundreds of soccer matches so far and have watched thousands of them! My main takeaway from all those matches is that most of them are won not only because of the coach tactics and/or players skills, BUT ALSO because of the personality of the team's Captain …
… In fact, Captains with skill and personality tend to influence positively the whole team!
In this article, I breakdown soccer positions a team captain should opt for, plus what it takes to be a great one …
… Let's dive in!
Best Positions for a Soccer Team Captain
Some of the best positions for team captains in my humble opinion include:
Goalie
Center midfielder
And a striker
The goal keeper is the anchor of the team and at the end of the day a lot of the game starts or ends in his hands!
This leading from behind approach and ultimate responsibility makes a goalie a great choice for a team captain.
On the opposite end of the spectrum are the strikers of the team …
…  A striker leads from the front with the responsibility of scoring for the team and giving them the lead.
This is another position of great respect and responsibility which is only entrusted within the best of players.
A striker is typically regarded as one of the best skilled position players on the team as well. With this extra skill and touch it gives the other players someone to model their game after as well as their character.
Last but not least, the center midfielder is certainly another great position to consider when deciding upon a team captain.
Center midfielders typically have a good scope of the field and can do almost anything that the game requires.
They are also in the center of the action which allows them to communicate with all of the different positions so the team is all on the same page throughout the game.
Due to the fact that the center midfielder can easily communicate with all team members, as well as excel in all aspects of the game, then this position seems an excellent choice for a team captain.
Quick Tip: Modern sequire requires a strong Grip to perform at the best of their abilities. One Tip to help improve this capability is to use Soccer Shoes with a good Grip. You can have a quick look at these quality soccer cleats to get an idea!
What is the captain role in a soccer team?
Officially a team captain's only responsibility is to represent the team at the coin toss, and select the direction the team will attack or take penalty kicks.
Although this is the only official duty dictated by the rules, a team captain's true responsibilities far surpass what is on paper…
… One of the first and foremost duties is maintaining the team's morale, especially while being down in a game or after a tough loss.
A captain is also looked up to by his teammates for guidance, mentorship, and discipline!
The key from those three would be discipline, and maintaining the team's composure during difficult calls or situations.
His role is essential in setting the example for his team especially for things such as celebrations and reactions to calls.
Overall, a team captain's true responsibilities far surpass their official role of representing the team at the coin toss.
What makes a good captain in soccer?
There are numerous qualities that shape team captains, however the qualities of leadership, humility, and credibility far surpass the rest.
In general a team captain must be a leader, someone that the rest of the team would love to follow…
… A few characteristics that develop an outstanding leader include humility and credibility, but also include charisma, skill, patience, understanding, and many more.
The captain must be humble! A self-centered captain is no fun to be around and will certainly not gain respect from teammates but instead lose respect for only caring about themselves.
A team captain must also be credible, for soccer this specifically means that the player must be good…
… If they are not good at what they do, what reason does the team have to follow this person?
Therefore not only must the person be a good soccer player, but they must also contain the other qualities of a leader stated above.
How to choose the right captain for your team?
This section is dedicated to all the coaches out there that might be having a hard time choosing a team captain for their team.
This is perfectly normal and happens to many coaches across the world on all different levels of the game!
If you have multiple players of the same relative skill do not fret, and instead stand back and realize how lucky you are as a coach to have so many options!
If this is you, then something important to consider is their performance off the field and who they are as a person.
Whether it is on the high school, collegiate or professional level, if the person is not a good person off the field they are probably not a good choice for your team.
To judge this objectively look at numbers such as GPA for athletes that are in school, if they are failing a lot of classes they are probably not a good fit for the team captain as it does not set a good example for the team.
If you are selecting a team captain on the professional level, it is important to consider their home lives.
If the athlete has had any sort of previous scandal, charges, or seems to have an unstable home life they are also probably not the best fit for your team.
Sometimes it is easier to narrow down your choices by who would be the worst pick for the job instead of the best!
These credentials mentioned above are solely based on the assumption that your team captain leads by example and sets the level of expectations for the team.
Picking someone who cannot handle themself academically or at home sets the bar low for other athletes and in a way shows that you as a coach think this behavior is acceptable.
Examples of Great Soccer Captains and their positions
1. Franz Beckenbauer
Beckenbauer was a center midfielder who played in the 1970's as part of numerous German football clubs.
He was a captain on both the national and international level while representing Germany as the team captain at the World Cup in 1974.
Beckenbauer was known for his tenacious will to win and determination to exceed expectations with every game.
These characteristics are an excellent example that proves the qualities of an outstanding leader.
He also exemplified the characteristic of credibility by winning every award there was to offer at the time. With this background he was certainly a captain that led by example and was an excellent role model for his teammates.
Franz Beckenbauer is an excellent example that the qualities of a team captain mentioned earlier really do make a difference for your team, and are applicable to every soccer pitch in the world.
2. Bobby Moore
Bobby Moore is another outstanding example of a team captain and was a center back for his team!
Not only was he an outstanding team captain but at the time he was England's youngest team captain to date at the age of twenty two years old.
Moore exemplified the quality of humility which we discussed earlier. He was said to be extremely quiet, but he held everyone's respect without saying a word and had authority over the pitch as well.
This cool, calm demeanor sets an excellent example for the team that his expectations was to let their play do the talking.
In the end, Moore was an excellent example of a team captain who exemplified humility and setting the tone for the team through his play instead of his words.
3. Roy Keane
Last but not least, Roy Keane is an additional example of a team captain although he was certainly not as disciplined as Moore, racking up eleven red cards throughout his career.
Keane was a much more vocal leader and established his role through the use of credibility by working harder than his competitors.
He set the expectation that maximum effort, drive, and determination was the standard and anything less than your best was failure.
Keane was also a midfielder leading the team from the center of the fight!
In conclusion, Roy Keane exemplified the characteristic of credibility and lead his team to victory through shear effort and desire to win.
Final Thoughts …
Hope this short article has given you some insight on how to choose the right captain for a team and the positions that are the most suitable for such a profile …
… But my main goal from this post is to help you understand the extreme importance of such a profile and how it can really make or break a soccer team!
So, make sure your team has the right person …
You can also learn about those other tips to select your soccer position … I think you will find that really helpful!