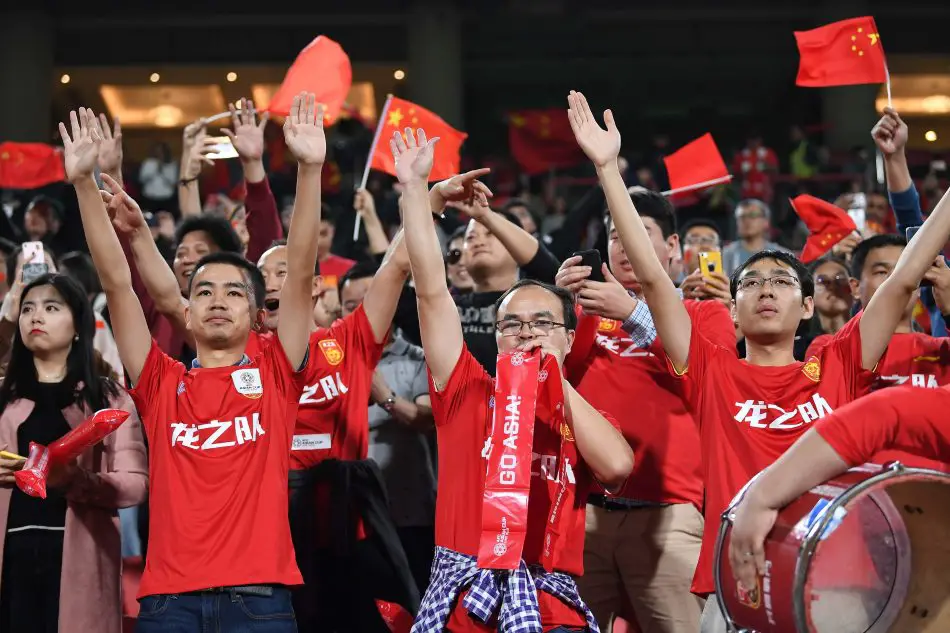 Modern Soccer was imported from Europe to many Asian countries including China! The latter has known a huge improvement in this sport and has a huge chance to become one of the leading countries in soccer in the near future.
In this article, I will discuss many soccer related topics related to the Chinese context!
Let's dive in.
Is soccer Popular in China?
Soccer is rapidly growing in China! This is due also to the billions invested into the sport by the government to help it become a global super-power in the sport.
More than 300 million Chinese people watch soccer at least once a week and now over 250 million Chinese people describe soccer as their favorite sport.
Chinese leadership has proclaimed a goal of winning the 2050 World Cup title as well as stating they plan to have over 50,000 soccer academies in China by 2025. Over 70,000 soccer pitches are in the works to be built and Chinese President Xi Jinping has declared he wants China to host The World Cup by 2050.
The country is getting a lot of expertise from abroad to grow the sport. They are assisting in creating leagues as well as building tons of soccer fields for amateur players.
Is soccer growing in China?
Important Side Note: If you are a soccer beginner or amateur and would like to improve your soccer skills, then I strongly recommend to use soccer shoes with decent Quality  and reliable Grip to perform at the best of your abilities. You can have a quick look at these quality soccer cleats to get an idea!
In China, soccer is considered a winter sport. Winter sports have been on the rise in China as the 2022 Winter Olympic Games are planned to be hosted there.
Although Soccer is not a part of the Winter Games, its popularity has increased as the interest in winter sports has gone up.
Soccer is also growing in China due to political encouragement. In 2013, President Xi Jinping encouraged clubs to significantly increase spending into the sport. Soon enough after, the first major clubs started to make some high-profile signings. Signing super star players such as Oscar, Hulk, Paulinho, and more.
The 2015/2016 season was huge for the Chinese Super League as this was the season, they made most of their new signings.
These new players caused the league's value to almost triple in just one season! The interest of the population has also been growing largely since clubs from the Chinese professional league signed millions of international football stars such as former Bayern-striker Sandro Wagner, former Bremen striker Marko Arnautovic and former Chelsea midfielder Oscar.
Not only are the new super star players of the Chinese professional league a hit; prominent players of classic, popular clubs are as well. Chinese people are just as much fans of clubs like Real Madrid, Barcelona, or Bayern Munich as they are Chinese professional league clubs.
The interest in international stars like Lionel Messi, Cristiano Ronaldo, and Neymar has increased vastly in China. According to Rufio Zhu of the Mailman Group, which examines developments in Chinese markets, these players number of Chinese followers have increased sevenfold in recent years to around 56 million.
When did soccer start in China?
Although soccer didn't become huge in China until recently, the sport was actually invented in China!
FIFA credits that the earliest form of soccer was created by the Chinese Han Dynasty in the 3rd-2nd century BC. It is said to have been used as a Chinese military exercise.
This use of the sport lead it to spread to neighboring countries such as Korea, Japan, and Vietnam as well.
Has China ever won competitions?
So far, the Chinese National Team has not won any international competitions but they sure are on their way. China is even scheduled to be the host of the AFC Asian Cup in 2023. This will be the second time China has hosted the event. The last time China hosted the AFC Asian Cup was all the way back in 2004.
In 2002, the Chinese National Team qualified for the FIFA World Cup and that is considered their greatest accomplishment to date. The 2002 World Cup is Team China's sole international performance, but it is evident that the CSL has high hopes for the future.
Team China exited the 2002 World Cup in the group stage without scoring one goal.
As for regional competition, Team China has been more victorious. Team China won the EAFF East Asian Cup in 2005 and 2010 and was also the runner up at the AFC Asian Cup in 1984 and 2004. Team China also earned runners up at the Dynasty Cup in 1990 and 1998. They also won the Far Eastern Games in 1915, 1917, 1919, 1921, 1923, 1925, 1927, 1930, and 1934.
In 2019, Team China made it to the second round of FIFA World Cup Qualifications, eventually losing on their home field to Guam in October with a final score of 7 to zero.
Team China is currently slotted to vie for FIFA World Cup Qualifications again in the 2021 tournament. Games are currently scheduled against Guam, Maldives, Philippines, and Syria.
Team China's biggest win occurred in January 2000 when they defeated Guam 19 to nothing. Team China's biggest loss happened in September 2012 where they lost to Brazil 8 to nothing.
The lowest Team China has ever ranked is 109th and the highest they have ever ranked is 37th. Team China is currently ranked 76th in the world. They have been performing particularly well lately and have climbed almost twenty spots in less than two weeks.
These achievements remind me a lot of Mecixo … By the way, you can learn about Soccer in Mexico … You will find that helpful!
Here is What I Suggest to make Soccer Big in China…
1. Sports Leaders
I suggest sports leaders continue to create big sponsorships and deals to keep money flowing into the sport. Many sports leaders are thankfully already doing this.
In 2015, Team China inked a 16-million-dollar sponsorship deal with one of the world's biggest sports leaders, Nike.
Sports leaders should also consider recruiting from China. Germany has already taken the lead in this initiative – six German clubs now have their own offices in China.
Bayern Munich, Borussia Dortmund, Schalke 04, Borussia Monchengladbach, VfL Wolfsburg and Eintracht Frankfurt are all active in talent projects in various Chinese providences and frequently visit China with their top stars.
The German Football League has also had its own office in China since 2019. This helps with the deployment of trained coaches in football academies as well as with merchandising and marketing.
For example, Borussia Dortmund, is the only German football club so far to use virtual advertising to broadcast its own matches. This essentially changes the advertising boards in the stadium so that Chinese companies are able to advertise for local customers.
Chinese sports leaders are also looking for support from other major countries who are already leaders in the soccer industry and have been for a long time. Zhang Qiang, Deputy General Manager of the China National Sports Group, says China is hoping large soccer countries such as Germany and Brazil will support China with their cooperation and international resources, so China is able to hold more international tournaments for talent development.
2. Clubs
Amateur clubs need to keep investing money into their facilities and uniforms to increase player enrollment.
Professional clubs need to work with sports leaders in order to continue the high-profile signings they started in the 2015/2016 season. These super star players are insanely important to the club and will continue to attract more star power and investors.
3. Players
To keep the Chinese soccer industry growing, players should take advantage of all the opportunities being granted to them,
There are plenty of new amateur clubs and facilities to play in as well as new professional teams to go watch. Players need to make sure they aren't taking these things for granted and showing investors that their investment is paying off.
The Future of Soccer in China
The future of soccer in China is extremely bright!
The rapid growth of the soccer industry in China has created an enormous million, possibly billion-dollar, industry for the country.
The bright future of soccer in China could also mean a bright future for the sport of handball as well. In huge soccer countries, such as Germany, handball has become very popular as well. Soccer has transformed China into a huge sports country and the opportunities are starting to look endless and prospering.
Money isn't the only thing the Chinese Super League has increased. Stadium attendance as well as big sponsor and television deals have shot up as well; increasing by over 400% and is expected to increase another 500% in the next six years.
The CSL has the highest attendance of all competition sports in China and is almost at the same level as the top 5 leagues in Europe.
Huge investment groups have also invested billions of dollars into the sport to ensure its bright future. For example, Alibaba Group Holding Ltd has invested 1.2 billion RMB to obtain 50% of the shares of one of China's best clubs. Dalian Wanda Group has also invested another 500 million RMB Chinese soccer.
Due to these high-profile investments, many companies are following suit and using their amateur football clubs as a marketing tool to attract potential customers.
Final Thoughts …
I have many Chinese friends who love soccer and this has inspired me to write this article and show some love to the Chinese people regarding a sport that I love…
… Hope you've found this article useful and informative!
Finally, I highly encourage you to learn how Soccer has become big and popular in Australia! You will find that interesting …