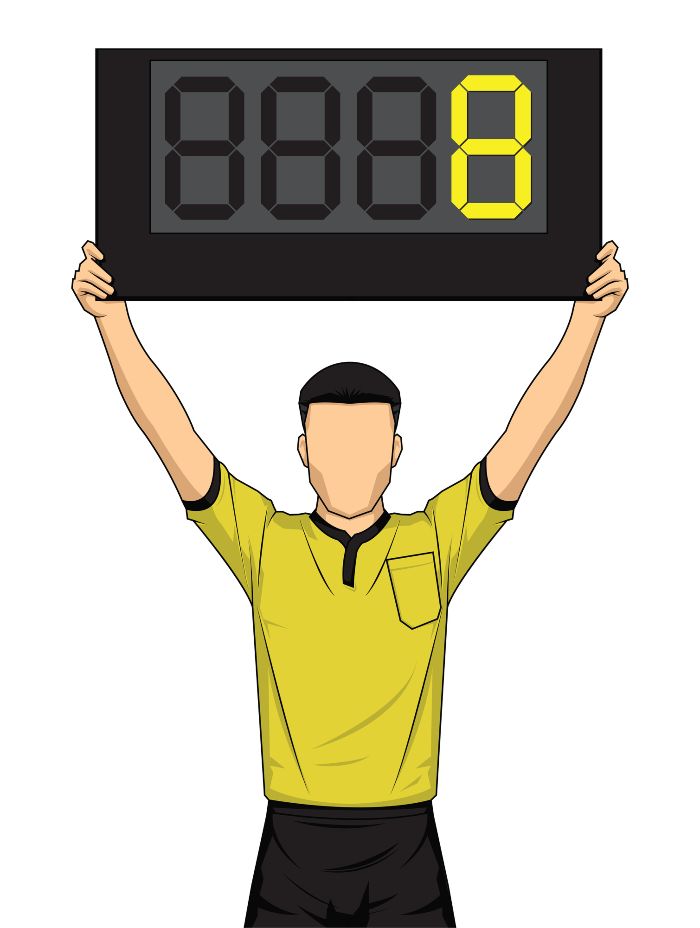 Soccer has several particularities comparing to other team sports! One of these particularities is the extra time that the referee tends to add after the first and second half of the game …
… This article explains the reasons behind that, how the ref counts this time, the average extra time per soccer league, as well as some interesting information that you should probably know.
If this sounds good for you, then let's dive in!
Why extra time is added in soccer games?
Although the standard time for a soccer match is 90 minutes, it is normal practice for those games to last longer than that, most commonly to allow time for any injuries that have occurred, for substitutions made or for any other interruptions in play.
That is why the time added on at the end of a normal match is commonly known as injury – or stoppage – rather than extra time.
At the outset it should be noted that the average soccer match does not last 90 minutes if the amount of time that the ball in play is considered.
Analysis from the 2018 World Cup suggested that, on average, across all the matches, the amount of time the ball was in play was 55 minutes.
The rest of the time was taken up by goal kicks, throw ins, corner kicks and all the other set pieces that constitute a normal game. If soccer games lasted for 90 minutes of action, they would be more than two hours in duration.
These sorts of stoppages are considered normal, and, therefore, no allowance is made for them at the end of games. It is the abnormal or excessive stoppages that give rise to extra or injury time.
Important Side Note: If you are a soccer beginner or amateur and would like to improve your soccer skills, then I strongly recommend to use soccer shoes with decent Quality  and reliable Grip to perform at the best of your abilities. You can have a quick look at these quality soccer cleats to get an idea!
Possible causes of extra time?
According to soccer's world governing body, the main causes of extra time being added at the end of a half or a match are:
Substitutions
Injuries to players
Penalties
Excessive goal celebrations
The removal of injured players from the field
Time wasting
Any other cause.
The latter is an umbrella term to describe the myriad of other factors that may cause a game to be stopped or delayed and which do not constitute a normal part of the game. Examples might include the intrusion of spectators onto the field, equipment failures (floodlights, timing, goal line technology), illness or injury to match officials, and extreme weather, such as snow, torrential rain, or hailstones.
It is important to realize that the amount of time that is added on at the end of a game is entirely at the discretion of the referee.
That is why the boards that a fourth official hold up to indicate stoppage time are an indicator only. It is common for managers to complain if they concede a goal in stoppage time that the full-time whistle should have blown, conveniently overlooking this fact.
On the other hand, when Sir Alex Ferguson was the manager of Manchester United, stoppage time became commonly known as "Fergie time" as his team scored plenty of important goals in it.
Average extra time per match
The average stoppage time varies between leagues and needs to consider the time added on both at half-time and the end of the match.
Based on figures for the 2016 – 2017 which looked at the top five leagues in Europe, the average stoppage time varied from country to country:
| | | |
| --- | --- | --- |
| Country | League | Average Extra Time |
| Spain | La Liga | 5 minutes 16 seconds |
| Germany | Bundesliga | 5 minutes 17 seconds |
| France | Ligue 1 | 6 minutes 6 seconds |
| Italy | Serie A | 6 minutes 35 seconds |
| England | Premier League | 7 minutes 59 seconds |
There is no clear reason why matches should last longer in England than elsewhere, other than a determination by match officials to be as accurate with their time keeping as possible.
It has also been suggested that the English are less tolerant of time wasting than some other leagues in Europe, although that does not stop it going on in virtually every match.
When referee starts counting extra time?
In professional soccer, it is the fourth official who is responsible for determining how much injury time should be played.
They usually have two watches, one that they stop each time there is a stoppage in play, and another one which is used to calculate the amount of time lost due to each stoppage.
Typically, a minute before the end of the half they will raise an electronic board to inform the players how much extra time will be added.
This is indicative only – it is left to the discretion of the referee how much time is added. It is not uncommon, for example, for extra time to be added because of the time-wasting tactics of one side during the injury time period itself.
Some referees will apply standard benchmarks to decide how much injury time should be played – for example, 15 – 30 seconds for a substitute, 5 – 10 seconds for a foul, and 45 seconds to a minute for a goal celebration.
Research though does reveal that second halves usually last longer than the first period of a match, suggesting that referees are less tolerant of stoppages after half-time.
Longest extra time ever …
The longest period of injury time ever added was 28 minutes in a Carabao Cup tie between Burton Albion and Bournemouth in 2019.
The match was delayed three times because of floodlight failures, and, at one stage was on the point of being abandoned with the home side a goal ahead.
In fact, the referee was on the point of calling it off when he was told by a Football League official that a game can only be abandoned if there is a total delay of more than 30 minutes.
Not all the Burton fans were there to see their team pull off a cup upset, with several of them deciding to call it a day and head home during the third power cut.
That was almost equaled by a match between Brentford and Bristol City in 2002 which saw the first half extended by 23 minutes alone due to a combination of factors.
One player suffered a broken leg, another a dislocated shoulder, an ambulance had to be driven up to the side of the pitch, and another player suffered concussion.
The longest period of injury time added to a Premier League match was the 12 minutes and 58 seconds added in game between Arsenal and West Ham United in January 2013.
Arsenal were well on top when West Ham substitute Danny Potts lost consciousness after an aerial challenge with Bakary Sagna. He required extensive treatment on the pitch before he was finally carried off wearing a neck brace.
In Germany, a Bundesliga match between Cologne and Hamburg resulted in nearly 14 minutes added time, because the referee got injured and had to be replaced.
The longest delay recorded in Asian football came in 2015 in a cup match between Western Sydney Wanderers and Guangzhou Evergrande.
That was extended by 17 minutes after Guangzhou goalkeeper Zhou Cheng collided with one of his own defenders, fractured a cheekbone and suffered concussion which had to be treated on the pitch.
Does the VAR Technique decide on the added time?
VAR does not decide what injury time is to be added at the end of the match. That is the job of the fourth official who will communicate it to the match referee.
However, the time taken for VAR reviews will be one of the factors taken into consideration when determining how much additional time should be played.
As these can be lengthy, they tend to add to the average length of a professional soccer match.
VAR though has had an impact on the length of matches. Before it was introduced at the start of the 2019 – 2020 Premier League season, it was estimated that VAR matches would last an average of 50.2 seconds longer.
That was based on analysis of those leagues that were already using it.
In practice VAR will generally add more time because it produces more penalties – 12% on average more in the first season it was in use in the Premier League. And that figure will probably increase.
One criticism of VAR's first season in the Premier League was that it was under-used, with some match officials either having trouble getting used to it or preferring to use their own judgment.
Does this apply to Futsal?
It does not apply to Futsal yet, but again the principle of extra time is allowed to allow penalty kicks to be taken, or a direct free kick, in the event that one team has committed more than five fouls.
Other than that, though, in futsal and in indoor soccer, most football leagues do not allow injury time to be played.
However, in some futsal competitions, because the rules do not allow for games to end in draws, then extra time may be played to produce a winner.
Final Thoughts : Any others sport with extra time …
Several other sports have injury time as well as soccer. In rugby union, for example, referees can stop the clock for up to a minute to allow an injured player to be treated.
They can also allow time for the injured player to leave the pitch. Time is also allowed for substitutions or in the case of incidences of serious foul play.
Some cup competitions also have extra time in the broader sense when the scores are level after normal time is finished.
The variant of the game called rugby league also has injury time added on at the end of each half.
Australian Rules Football is another sport where the clock might be stopped during a game at the umpire's discretion, in the case of serious injury or the ball going out of bounds.
Finally, I strongly encourage you to check other important soccer rules … In fact, you can check this Post on what you should not do in soccer! Even amateurs are not aware of these rules!