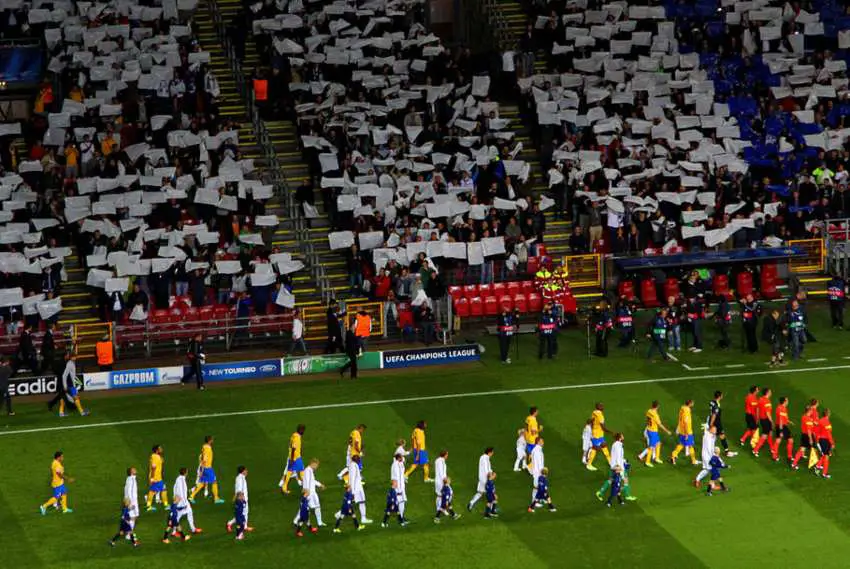 I am 100% sure that you've watched soccer games before where players walk out with little kids! You've probably noticed that in World Cups, National Leagues and many other competitions …
… To be honest, I've been noticing this for years and was always wondering why?!
So, I've decided to make some deep researches and put together this article where I share what I've actually learned.
Let's Go!
When this happened for the first time & why?
The first time kids walked out on the field was kind of a shock for fans. They were not sure what to make of professional soccer players walking onto the field with kids, or sometimes known as mascots, since it was not something usually done.
Some of the earliest known occurrences date back to the 1999 FA Cup Final. 2 little boys walked with the two best English teams at the time Manchester United and Newcastle, one for each team.
The following year at the 2000 European Championships a child was present with every player.
The trend blew up fast from the first year to the next, and this trend continues to this day. There are plenty of speculations as to why professionals bring kids out onto the field.
Many speculate, but there's a clear answer for the first few times, as to why this trend continues is up for debate.
In 2001, FIFA made an announcement about partnering with UNICEF for their campaign, "Say Yes for Children." The campaign goal was to "improve and protect children's lives" around the world and show "football making a difference for children."
Before every World Cup 2002 match, children would "lead the players onto the field wearing FIFA/UNICEF "Say Yes" t-shirts."
The first few times was due to a campaign, yet for almost two decades since children continue to follow or in some cases lead players out onto the field.
But why?
Important Side Note: If you are a soccer beginner or amateur and would like to improve your soccer skills, then I strongly recommend to use soccer shoes with decent Quality  and reliable Grip to perform at the best of your abilities. You can have a quick look at these quality soccer cleats to get an idea!
Reasons why players walk out with kids
1. Conventional reasons
First off, money. That's right, parents have the opportunity to pay for their child to escort a player before a game.
It's an easy way for clubs to earn some extra cash while giving a kid the chance of a lifetime. Granted, their parent's pockets must be deep enough.
Is it exploitative of the child in this sense? Fans pay for signatures in some cases, so in a way this is no different. It's a win-win for everyone.
Another reason kids might be on the field is to protect players. This reason is debatable, but many fans believe a player is less likely to have something thrown at them if a child is present.
How true this reason is highly speculated. It does make sense though. Most people would not run the risk of hitting a kid if they miss the player.
Although this reason is not necessarily provable, it is possible.
Beyond exploiting kids for financial gain or personal protection, another reason is for public relations. However, a player's heart can be in the right place for this particular reason.
Charities such as the Make a Wish Foundation have been known for booking select sick, handicapped, or underprivileged kids for the opportunity to not only meet famous players, but also walk on the field with them before games.
Additionally, teams often select children from local schools or clubs, or champions of local youth tournaments and leagues to be escorts.
You can imagine the good publicity a team receives when they partner with local young teams. Again, another win-win situation for everyone involved.
2. My own opinion/reasons
My personal opinion is it's all about good publicity. Teams play off the innocence and purity of children to their advantage. It shows these teams are people with big hearts and give back to their community.
It brings them down from their high pedestal to remind everyone they are human just like everyone else.
People love kids. The same way they love puppies and free stuff. It is a good image to give your team when you come out with kids.
Is it exploitative to these kids? Perhaps if the team is only using them for a photo opportunity.
It's my belief that most of the time these players want to give these kids an experience they would otherwise never have. As fans, the sight tugs at our heart strings and makes us like the team more.
The only issue I have is when parents buy that spot. There are plenty of children that are more deserving of this unique experience. Whether it is tough as nails champions that worked hard to win a tournament, or the children part of charities such as the Make A Wish Foundation.
Besides, I also believe the kids on the field are probably related to or know personally the players.Which this makes the most sense. I'm sure Ronaldo and Messi have had their children on the field. Right?
Obviously, I believe the main reason you see children on the field is because they are someone's kids. Talk about being a lucky kid.
How those kids are chosen?
First off, it depends on each league and club whether or not they allow mascots. It's rare, but some teams may choose not to allow mascots to come out with them. This is rare, since teams are more than willing to receive good publicity.
It's best to check with a particular team before you start making plans to someday make your child a mascot for them.
With that out the way, traditionally teams have arrangements with local schools or junior teams that have mascots chosen within each.
How a child is selected is strictly up to these schools and teams. Most of the time it's based on athletic ability. The best players are usually first pick. Not always the case, but you can expect this to be the way they choose.
On an international level, you'll likely find a chief sponsor of a competition or organization that is actively scouting for mascots. The McDonald's Player Escort Programme is the best example of these types of organizations. The company selects kids to be involved in numerous tournaments organized by FIFA.
Your local team will have different methods for allowing children to participate. For each event, different requirements will be considered, especially for exhibition, cup, or league games.
The most common example is how Arsenal allowed paid up members of their Junior Gunners initiative to fill out a form and enter a ballot to be a player's mascot at the Emirates Cup.
Paying for your child to be a mascot is another option. Although, this option is expensive and sometimes falls in a gray area …
… For example, clubs such as Everton charge for children to be mascots for the club's biggest games of the year, then donate that money to charity. The rest of the season is free, and under-privileged children get to be mascots most of the year.
The privileged kids get the biggest spotlight at a hefty price tag, but on the other hand under-privileged children still get to be mascots in lesser games for free.
Also, back to clubs like Arsenal. They are not "free" considering the kids have to be paid members of the associated junior teams.
The price to be a part of a junior fan club is not comparable to the donation option. There is still a price and even then those kids are not guaranteed to be a mascot.
Do women soccer players walk out with kids too?
Yes, in fact at the 2015 Women's World Cup semifinal between the U.S. and Germany, the starting players walked out accompanied by 22 young girls. Unfortunately, this caused quite the stir.
People were questioning the decision as to why the majority of escorts that year were girls. It gave the message of imbalance in the world of soccer, especially for the Women's World Cup.
Some saw it as a portrayal that only young girls should care about the World Cup. Leaving out their male counterpart.
Personally, I do not believe that was the message given. Instead, it was a message to young girls that they too could be on that field someday. FIFA mascots are normally co-ed, and people felt the Women's World Cup should be the same.
Either way, women soccer players walk out with kids too. Same rules apply about how they are chosen.
What countries, leagues or competition this is common the most?
All over the world teams have taken up this new tradition of having mascots. England is most known for selecting children. It's part of being a team. Players must have mascots. There's no explicit rule, but you would think there is one.
Also, wherever FIFA is, child mascots are bound to follow. On an international level, it's difficult to say who has the most mascots, besides England that is.
Children are flown out by FIFA to attend these matches. This means kids from everywhere at the most watched soccer games.
Even local leagues allow children to be mascots, and again no team will not pass up good publicity.
Final Thoughts: What should I do to give my kid this opportunity?
If you are fortunate enough to live in a city with a premier league club, then the first step would be to have your child part of that team's junior league.
From here, once all membership fees are paid, then you enter into the ballot and wait for your child's chance to get called up.
Or, in some cases you could pay for the opportunity. Many teams give parents the option to pay for their child to walk out. Everton charges nearly $1,000 for the chance.
They are the most expensive, but you get the point.
Another option is to look locally. Local teams and clubs offer these opportunities to kids, whether through the junior clubs or through paid spots.
Either way, your child is more likely to go out onto the field with a local team than a famous team such as Manchester.
Consider local teams or MLS teams in America.
Finally, if you've gor kids and want to help get them involved in the sport, then I strongly encourage you to check those helpful articles: