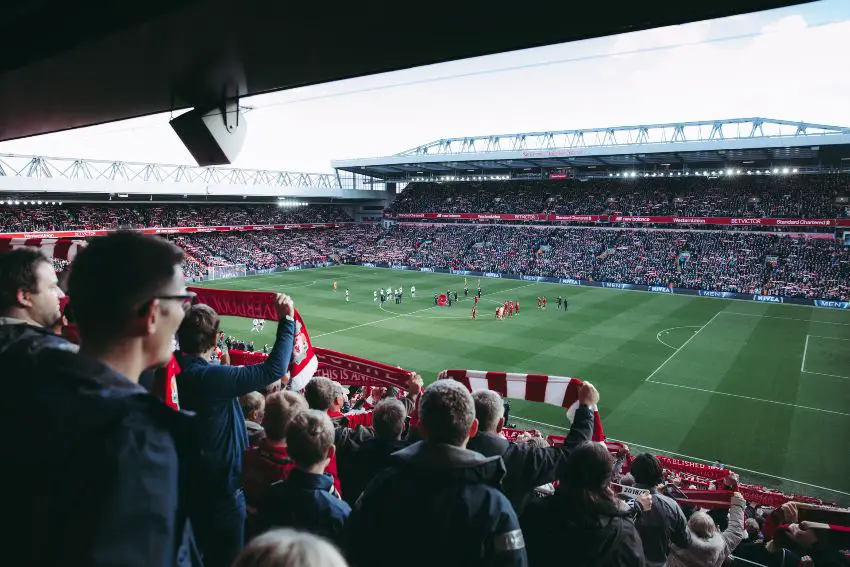 Besides playing soccer consistently, I love watching it on a weekly basis. Especially the English Premier League! If this is you, then you've notices that most fans wear scarves even colored with their favorite team colors …
… I've been noticing that for a while and decided to do some research on why they do so, as well as understanding the background and history behind that.
In this article I share what I've come up with!
Why do soccer fans wear scarves?
Soccer scarves originated, as did many of the traditions that many now take for granted, in the United Kingdom, where they serve a dual purpose!
Not only were they a way of keeping warm on cold and dark winter evenings, but also a way of showing their support for their local team.
They also became a way of identifying not only with a club but also with their fan base as well, and later almost became a fashion accessory.
In more recent times they have become commemorative items as well, a souvenir from a day out or a major event.
Important Side Note: If you are a soccer beginner or amateur and would like to improve your soccer skills, then I strongly recommend to use soccer shoes with decent Quality  and reliable Grip to perform at the best of your abilities. You can have a quick look at these quality soccer cleats to get an idea!
How and when this practice has started?
Nobody knows for certain when the practice started, although it is likely to date from the early 20th century in England. Once teams began wearing shorts of a fixed color, fans of that team began to want to show their support for it in a particular way.
Initially they wore colored ribbons or waved white handkerchiefs. This was in an age before TV coverage when soccer attracted vast crowds, the overwhelming majority of whom were male, and who dressed in the monochrome fashions of the time.
Wearing any sort of color was, therefore, a form of statement and a way of distinguishing yourself from the crowd.
There is an alternative theory, however. It is that the idea came from the players themselves. In the days before teams began to wear fixed strips, wearing colored scarves helped to distinguish members of one team from the other.
The first recorded sighting was in 1934 from an Arsenal Crystal Palace tie at the old Highbury ground, when a solitary man was seen wearing a red and black striped scarf on TV footage.
The fashion soon took hold, but, in the early days, soccer scarves were not mass-produced items but were hand-knitted often by grandmothers at home, earning the nickname granny's scarves.
That meant that scarves often varied in quality and design depending on how skilled family members were with the knitting needles.
By the start of the Second World War, the craze had begun to catch on, and really became a mainstay of fan culture after the conflict.
They soon became a favourite Christmas gift throughout Britain, and then the idea spread across the English Channel and became increasingly popular in countries like Germany, Spain, and France, and, from there to the rest of the world.
Clubs belatedly came to realize the value of sports merchandising and the club shop was born. At the same time, mass manufacturing enabled scarves to be produced in the thousands, making virtually obsolete the hand-knitted versions of the past.
However, given the cost of officially sanctioned club merchandise that does not stop there being a large and unregulated black market for all forms of soccer accessories, including scarves.
Types of scarves soccer fans wear
In the early days, scarves were basic in design, usually consisting of stripes in the club's main colors. As technology evolved though they became more complicated and began to feature emblems, club crests and even faces of favorite players.
Half and half scarves are a comparatively new concept and one that is divisive for many fans who would regard sporting a scarf that, on part of it, celebrated a rival.
They are aimed not at the fans of either one side or the other, but the casual fan who has been given a ticket to a game and wants something to remember the occasion by.
Clubs with fans that are the most known for wearing scarves
The wearing of scarves originated in England and it is no surprise that some of the clubs whose fans are best known for wearing them remain there.
Liverpool is a case in point. It is a tradition to wear them and show them in the air whilst the club's traditional anthem "You'll Never walk Alone" is played before every home match.
And they take that on tour with them as well – when they played in Australia on a pre-season tour in 2013. 85,000 at the MCG in Melbourne, many of whom had never been near Merseyside in their life, sang the song with passion many of them with scarves aloft.
Borussia Dortmund is  one club that have borrowed both the anthem and the scarves from Liverpool. Before every home game at the Westfalenstadion, visiting teams are confronted by the yellow wall, the massed ranks of the home fans in the South Stand all waving yellow and black scarves.
And in Scotland, the "Auld Firm" of Celtic and Rangers will compete on the terraces in a battle of the scarves with colors overlaid with political, religious, and partisan significance.
Celtic too have adopted "You'll Never Walk Alone" repatriating the song and the waving of the scarves after seeing it in action first-hand when they played Liverpool in the 1966 European Cup Winners Cup semi-final.
It should also be noted that scarves are not exclusively limited to club teams either. They will also be brandished by fans of national teams and may be one way of unifying diverse groups of club fans behind a common banner.
Are there popular in America and MLS too?
Soccer has had a long and not always smooth existence in the US which saw leagues like the NASL (North American Soccer League) come and go.
However, the success of the 1994 World Cup as well as the rise of the US Women's team saw soccer once more gain a foothold in the country and now it has become an established sport played and watched by millions of fans.
One thing that is different this time has been the growth of supporters' groups, who are organized and who have borrowed many of their habits and their customs from their contemporaries in Europe and South America.
They helped to create the atmosphere in MLS grounds, and one innovation that was soon imported was the wearing of football scarves, together with the singing that usually accompanies their waving.
Toronto FC were amongst the first clubs where supporters raised them in the air before and during games, but it was Seattle Sounders who took things to a new level. When their franchise entered MLS, they issued club scarves to all 22,000 season ticket holders.
And given that Seattle has proved to be one of the most successful teams in the league, where they go others follow, both on and off the field.
Since then the wearing and brandishing of scarves has become pervasive throughout the MLS. The league itself claims that in 2016, 10% of all merchandising sales were on scarves.
Meanwhile, the MLS has institutionalized the scarf by handing draft picks at the annual SuperDraft scarves of their new teams in the same way that the NBA hands out draft caps.
It should also be remembered that, as in many other countries, there is a large counterfeit merchandising market for soccer souvenirs and mementos, and that the true amount of money spent each year on team scarves is likely to be far greater than the official figures.
Another factor that should be borne in mind is that not all US soccer fans follow the MLS.
There are substantial numbers that follow European and South American teams instead often in officially organized groups where they will meet in a designated bar or pub to watch their favorite team play on satellite TV. Many of them will be kitted out with replica shirts, and many will also don a scarf as an additional accessory.
Do they still wear them in summer?
Whilst scarves may originally have partially had a utilitarian purpose – to help keep out the cold on a chilly English football terrace, the football scarf has evolved a long way since then.
Now they are much more likely to be worn either to indicate a sense of belonging, or as a fashion item and, in that sense, they have no season. They are an all-year round accessory.
And, whilst they were once hand-knitted, modern soccer scarves are made of more light-weight materials, which means they are neither too warm nor too bulky to be worn during the summer months.
In addition, whilst scarves are traditionally worked around the neck, there is an increasing tendency amongst some sections of soccer supporters to wear them around the wrist instead.
For some, wearing a scarf on the wrist is not only a sign of commitment but is also a signal that the wearer is a "hard" fan or an ultra.
An ultra is somebody who will support their team at any cost, home and away, whatever the conditions. They are also somebody prepared to fight with rival fans and even battle with the police on occasion.
Final Thoughts …
There are some people who go crazy about scarves to the point that they've collected hundreds related to so many clubs out there …
That's really a cool idea!
To be honest, I like this way to supporting your local clubs, it makes the stadium even more beautiful and provides a good encouragement for the supported team!
Finally, if you like practicing soccer in the beach, then I highly invite you to check those 2 helpful articles: