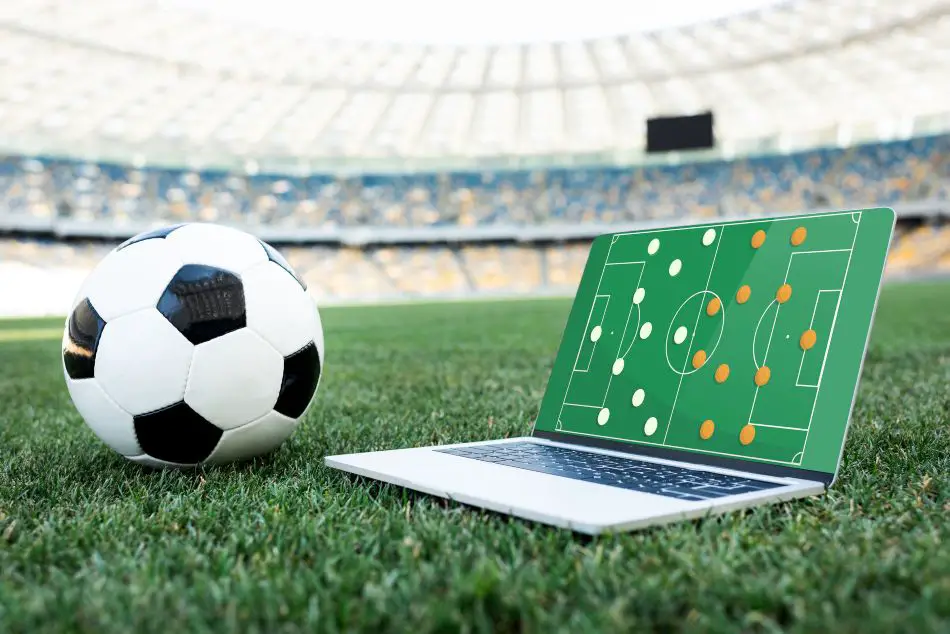 Knowledge is power they say, right! And guess what, soccer is no exception when it comes to that!
In fact, having a solid knowledge background about the sport will help you to have an unfair advantage as a coach, as a player and even as a fan who regularly watches and follows the sport.
In this article, I share 15 Solid tips that will help you quickly improve your soccer knowledge!
Let's dive in.
1. Read about the rules and regulations of the game on the official sources
This will help you better understand all those nuances of the soccer, as well as the basics.
Read about the history of the game; learn about how was the soccer played before, how the rules have changed over time.
Especially read about the game in earlier decades, as soccer was quite different before.
Compare situation now and then, and how changing the rules and regulations influence on the way the game is played now.
Did those changes improved the soccer or not? This kind of analysis will make you understand the game better and create building blocks for further improvement.
2. Watch soccer games
Watching the games will help you improve your understanding the sport dynamics.
Watch soccer games from England Premier League, Spanish La Liga, Italian Seria A or German Bundesliga, as these are the home of the best clubs out there!
Of course, you have tournaments like the Champions League, Europa League, World Cup, etc. These are all competitions that gather the best players in the world.
You can learn a lot about the game just by watching these professionals, and pick something up that you can later use for improving your own skills. Take your notebook and make notes for deeper research later.
Also, keep in mind that you can find some historical games to watch, the games that will definitely expand your horizons.
Important Side Note: To properly practice soccer skills & drills, I strongly recommend to use soccer shoes with decent Quality  and reliable Grip to perform at the best of your abilities. You can have a quick look at these quality soccer cleats to get an idea!
3. Pick your favorite soccer player
This is usually a first step while falling in love with soccer!
Find a player whose playing style you like, whether it is his dribbling ability, scoring potential, passing game or goalkeeping skills.
Get interested in his training regime, working habits, game preparation and skill. Learning about all this may help you with your game, as you will try to adopt the lessons learned and try to be like your idol.
This will give you necessary motivation and definitely push you further.
Personally, my favorite soccer player is Luka Modric, his exterior ball crossing and shooting as well as his ball control are just amazing!
4. Find a team to support
Supporting a team is not only about watching the games. This goes much further than that. When you support and cheer for a soccer team, you learn about their playing philosophy and tactics.
This is often a basic way to learn about ground rules of soccer, but also a way to build a greater understanding of different soccer situations and scenarios.
The team I personally support is Real Madrid!
5. Watch sports channels
ESPN, Fox Sport, BBC Sport, and other sports channels are great resources for learning about any sport including soccer.
TV shows, match previews and reviews, game analysis, represent a significant base of vast knowledge and experience.
Here you can learn about proper tactics of winning teams, about mistakes some players or teams made, what they could do differently, etc.
This way you can gain some basic knowledge about alternative plays and decision making during a game, through real game examples.
Also, watch interviews with players and coaches. They will provide you with excellent advices and tips.
6. Read the latest news and trends
Keeping yourself up to date with the latest soccer news is essential. If you want to be better at soccer and improve your skill, you must follow the latest trends and soccer philosophies.
You must be a learner all the time. Every new information you acquire will give you an advantage and can enhance your skills development when practiced later.
You have a dozen online magazines and soccer blogs that will be a valuable resource of information for you.
7. Be a part of the soccer group on social media
There are many soccer related groups on twitter, facebook, instagram and other social media networks.
They gather people enthusiastic about soccer, who share different news and various soccer knowledge on daily basis. Being in these kind of groups will keep you updated and provide you with necessary resources for constant learning. You will also meet people with the same interests as you, which will also motivate you to keep learning and be better at soccer.
8. Learn about different tactics and formations
You do not have to be a professional soccer player to have grand knowledge about different tactical approaches.
Knowing a lot about players' positions, possible playing formations, various defensive and attacking tactics, will be useful to you later.
If you acquire this knowledge from the right start of your soccer career, you will train your brain to have a tactical approach to any situation and think about possible consequences of every play.
That way, you will have a solid ground for advanced decision making skill later on.
9. Learn about the training basics
Understanding the training drills and exercises will help you in long term!
Knowing these basics will allow you to master the drills much quicker and easier, as you have previously learned the proper way to perform them.
Find drills on coaching websites, or watch YouTube videos of players performing them. You can even make your own training schedule with the most effective drills by your own assessment.
Get creative and think of a drill of your own. Also, get familiar with some essential training equipment.
For more information Check these …
10. Learn about proper warm up routines
This is essential when it comes to preparation before starting training drills.
You should always take time to stretch your muscles and prepare your entire body. If you do not stretch, you are risking an injury, which can lead to problems that are more serious later, sometimes for a long period.
Read about warm up exercises, or watch YouTube video tutorials with tips on warming up sessions. It is important to learn about which exercise targets what part of your body.
That way you can create your own training routine and prepare for intensive drills. Acquiring this knowledge is today a matter of sports literacy and it is mandatory.
11. Understand nutrition importance
Many professional sports nutritionists linked the player's performance directly to the quality of his meal plan and diet.
This influence is going up to 80 percent of the performance and it is clear now that understanding soccer and development of skills cannot be done before understanding the influence of nutrition.
Increasing knowledge of protein and carbs rich foods will help you design a quality diet plan. Adequate, soccer appropriate nutrition will give you more energy for training sessions and will help your body recover quicker after the game.
12. Read soccer books
Books are always a great route to learn anything you want!
When it comes to soccer, there are numerous titles, from various authors, that can help you get familiar with soccer behind the scenes.
This will definitely give you the upper edge in your further career. Here are just some of them:
"Inverting the Pyramid: The History of Soccer Tactics", by Jonathan Wilson (This is my favorite book! Check it Here on Amazon)
"Provided You Don't Kiss Me: 20 Years With Brian Clough", by Duncan Hamilton
"The Ball is Round: Global History of Football", by David Goldblatt
"Futebol: The Brazilian Way Of Life", by Alex Bellos
"Tor! The Story of German Football", by Uli Hesse
"Morbo: The Story of Spanish Football", by Phil Bail
"Fear and Loathing in La Liga: Barcelona, Real Madrid and the World's Greatest Sport Rivalry", by Sid Lowe
13. Play soccer video games
And this is probably the most fun way to learn about soccer!
But how will playing video games help you? Games today are more realistic than ever, with amazingly done real game simulations.
Playing them will improve your understanding of the game and definitely build the foundation for further knowledge and skill. Many soccer games can help you with this goal.
The most commonly played are FIFA and PES. These soccer games have vivid graphics and real-game conditions.
You will learn everything from basic soccer rules, to the importance of positions and how you can exploit open space. For advanced tactical knowledge, play Football Manager.
This game's depth is astonishing, as it covers everything from scouting players, to scheduling training sessions, picking tactics and formations. It is an all-around soccer simulator that will teach you almost everything about soccer.
14. Have a fantasy team
This tip is similar to playing video games, but with one big difference.
To be good at it, requires being up to date with latest news, players' form, match results, teams' advantages and disadvantages, and much more.
This is quite a fun way to start following soccer matches and can broaden your soccer knowledge greatly.
Fantasy team requires a lot of dedication and it will keep you interested and motivated, to watch games, analyze stats and judge players' abilities.
15. Talk with experienced players
If you are able, discuss various soccer topics with some experienced, older players, or coaches.
Their vast playing experience will provide you with some amazing, priceless tips and guidance. Make use of it and try to absorb as much knowledge as possible.
They were in your shoes before and they know how you feel now at the very beginning.
That makes them in a good position to provide some advice that will definitely improve your game and speed up your skill development.
Bonus tip: Listen to podcasts
Podcasts are more and more popular because of the flexibility they offer and customized content.
This can be a great strategy for learning in free time, while driving by bus, going to training, or just relaxing.
Find some soccer experts and listen to what they have to say. They will surely boost your knowledge level of this beautiful game.
Final Thoughts …
Hope you will find these tips useful!
Obviously, I am not asking you to consider all these tips, just pick a couple that resonate with you and that you will feel the most comfortable doing and the just take action …
… It won't take you more than a couple of months to notice your knowledge about the sport just go through the roof!