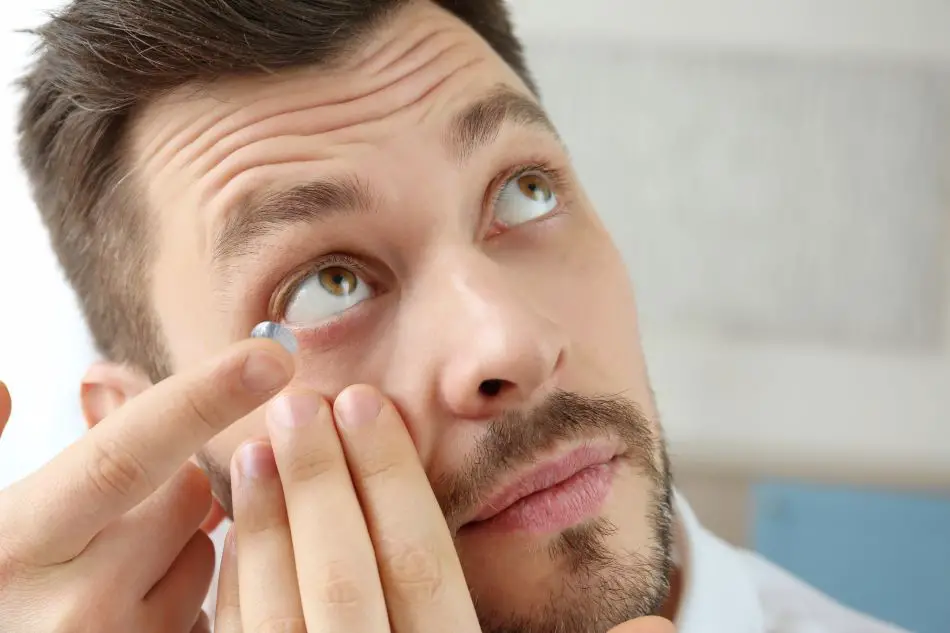 There are many people who prefer contact lenses over glasses for their vision! This happens to be even better during physical sports like soccer …
… However, this could present some risks that you should be aware of!
In this Post, I discuss this subject in full details …
Can you play soccer with contact lenses?
Yes, why not. Contact lenses can significantly improve your eyesight.  Thus, help you to perform even better during soccer games.
Cristiano Ronaldo, the multiple times Ballon d'Or Winner, have used contact lenses and do I need to tell you how good he is? So in short, contact lenses won't affect your game in any way in fact, they will increase your abilities as you'll be able to focus better on the ball and will also increase your chemistry with the team which is the main key to success.
The only alternative available at the moment is goggles which comes with a frame and might not fit you 100%. On the other hand, contact lenses don't come with a frame and should fit your eyes perfectly.
Soccer demands a fair share of running, tackling and precision, so you don't want to compromise all this just because of avoiding contact lenses.
Important Side Note: If you are a soccer beginner or amateur and would like to improve your soccer skills, then I strongly recommend to use soccer shoes with decent Quality  and reliable Grip to perform at the best of your abilities. You can have a quick look at these quality soccer cleats to get an idea!
Reasons to wear contact lenses during a soccer game …
If you have eyesight issues like me, then you won't be able to perform at your fullest, period!
Lenses don't have reflection issues like glasses and they stay on their positions even if you jump for headers.
Another reason why you should wear Contact lenses is because they are quite affordable these days especially if you compare them to sports goggles. In addition, the latters have the potential to be damaged and or broken.
In the region I live the most important reason why we prefer contact lenses is because they are not affected by the fog or rain drops while their alternative, goggles gets very messy when they come in contact with fog or when you play in the rain.
Are contact lenses dangerous while playing soccer?
The biggest issue which I faced while playing with lenses was that it gets very irritated if something gets under your lens and rubbing it won't make any difference so the only option you have is to be patient until you clean it and get if fixed.
Another thing, especially if you are a defender is that your lens can create problems if you are stuck by anything in your eye, we have seen it on several occasions when defenders try to tackle  or if players get tackled they get poked in the eye by the opposite player so that could be an issue.
There are some glass lenses that shatter once they are broken and it can damage your eye and you can lose your eyesight completely so never use low quality lenses just because they are cheap!
I highly invite you to learn about these soccer dangers … You will also learn how to deal with them!
What characteristics content lenses should have in this case?
We are fortunate that we live in an era of science, technology and innovation where there are specialized products for every specific purpose or need.
First, you should always consult an Ophthalmologist before purchasing a lens as they know better what lenses are better for sports especially soccer.
Always go for soft lenses so even when pocked they won't break inside an eye as soft lenses are ideal for athletic activities.
But like I mentioned before we live in an era of innovation so there are contact lenses made especially for sports.
Many lenses offer UV protection which is necessary if you are playing an outdoor sports like soccer. This will keep your eyes protected when playing on a sunny day.
Are there any contact lenses that would improve overall performance?
Soft and disposable contact lenses are the best to use, they are not very expensive and you can easily dispose them after playing a match or some can go for a week as well.
1-Day Acuvue Moist Ultra are ideal for playing sports, they are disposable lenses which could be used on a daily basis. The best thing about them is that they lock in moisture to provide to clean and clear vision for the user. Cherry on the top is that they also block UV rays so for me they are an ideal choice of what should be your first choice while playing soccer.
1-Day Acuvue Trueye is another popular lens among athletes because of its comfort and safety. The UV protected lens are made to keep up with your sports life as they go very well in vigorous environment.
Biomedics 1-Day Extra is another popular model due to its fitting and flexibility. Designed with a special base curve they can be used up to 12 hours straight in a day. And just like 1-Day Acuvue Moist Ultra it is also very good in handling moisture.
Finally, if you are interested in other alternatives to improve your performance, then you can use sport bras for soccer … It has some interesting technology that can actually help!
Are glasses a better alternative to contact lenses?
You only have 2 options either you can use glasses or you can go for contact lenses but we've seen many renowned names playing with glasses especially Edgar Davids one of the biggest players ever to grace the soccer field.
But let's be honest here, playing with glasses involves huge risk as it can hurt your eyes if it gets broken, also its frame is not the ideal one, you will have to fix them again and again as they won't stay on their proper spot when you're running, they could also move around when you jump.
Another major reason why glasses are not a better alternative is because they are significantly more costly.
Are there any famous soccer players who wear contact lenses?
According to some stats, 59% of individuals aged between 18 and 34 need contact lenses or alternatives to take part in sports.
Many big names have used them to enhance their performance. Mario Balloteli used to play with Lenses before he had a laser eye surgery to get the job done once and for all.
David De Gea is one of the best goalkeepers in the world. And he is known for his diving saves and flexibility in the posts, he has been quite open about his use of contact lenses.
According to reports he suffered from Hypermetropia since childhood, he can't focus properly on objects close to him, he used disposable lenses which pretty much enhanced his game.
What precautions should you take during a soccer game?
You should take extra care of your eyes and should not go for tough headers and avoid crazy defenders who can easily poke you in the eye!
Another precaution is to not to rub your eyes while wearing lenses as it will displace it. And above all do wash your hand before applying lenses and use a sanitizer if you have one.
A big mistake that many people are guilty of is they don't separate the left and the right lenses which create confusion when wearing.
Always consult doctors if you're using contact lenses and get your eyes tested on regular basis to see if lenses are not effecting your eyes.
On a side note, if you have flat feet (which many people have), then you probably should check those precautions to take into consideration to play soccer with flat feet.
Final Thoughts …
Hope this short article has answered most of your questions about contact lenses and what they can do for you as a soccer player or as an athlete in general!
Just, please, take the precautions I've mentioned and always opt for a quality lens that won't hurt your beloved eyes.
Finally, I've had a fun question on why some soccer players fake injuries … I've put together this interesting article that give all the reasons behind that … It's a fun read!